/

/

Johnson Development Plans 'Best of the 'Burbs' Tour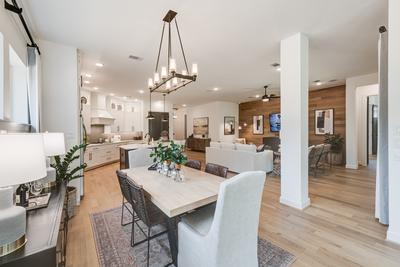 HOUSTON, TX -- Today's trending home design will be on full display as Johnson Development opens the doors to more than 130 professionally decorated model homes — including nearly 40 in north Houston — during the "Best of the 'Burbs" home tour this April.

Homes will be open 10 a.m. to 6 p.m. Mondays through Saturdays and noon to 6 p.m. Sundays. Admission is free. In addition to the model homes, more than 150 inventory homes also will be open for touring.

"We are excited to showcase some of the nation's top builders in 12 of our beautiful Houston-area communities," said Christen Johnson, Senior Vice President of Marketing for Johnson Development. "Not only do our communities offer world-class amenities, but buying a new home often allows for a number of advantages, including customizations, lower maintenance costs and potential energy savings. Additionally, for those with a keen design eye, this is a great time to come see vibrant, bold colors and flex entertaining spaces found throughout the homes."

The three north Houston communities include Amira in Tomball, Grand Central Park in Conroe and Woodforest in Montgomery.

A 3,000-acre development located seven miles west of Interstate 45 in South Montgomery County, Woodforest has been listed among the nation's top-selling for 10 years. The community boasts a growing commercial district, with dozens of new restaurants, shops and other businesses now open in Pine Market. Twenty-one models will be on the tour. The Easter Bunny will be in Pine Market 10 a.m. to 1 p.m. April 1 for photo opportunities. For details, visit www.woodforesttx.com.

Grand Central Park builders will have 10 model homes open during the tour in the 2,046-acre master-planned Conroe community. Located along Interstate 45 and Loop 336 South, Grand Central Park boasts authentic hiking trails, expansive natural lakes and wooded serenity. Numerous businesses and restaurants have now opened in Marcel Boulevard in Grand Central Park; additionally, the Hyatt Regency Conroe Hotel & Convention Center is slated to open there this year. The community will host a Jazz Fest that is open to the public 1-4 p.m. Saturday, April 29. Visit www.grandcentralparktx.com for details.

Builders Beazer Homes and Perry Homes will have six model homes open in Amira, a 549-acre community in Tomball just north of the Grand Parkway. Amira is known for vast amenities, including The Resort at Amira, a luxurious clubhouse anchored by a resort-style pool. The community is being developed by Johnson Development Services, an affiliate of Johnson Development Corp. Details can be found at www.amiratexas.com.

Tour maps and event details can be downloaded at www.houstonhometour.com.