/

/

New Light Lab at The Woodlands Children's Museum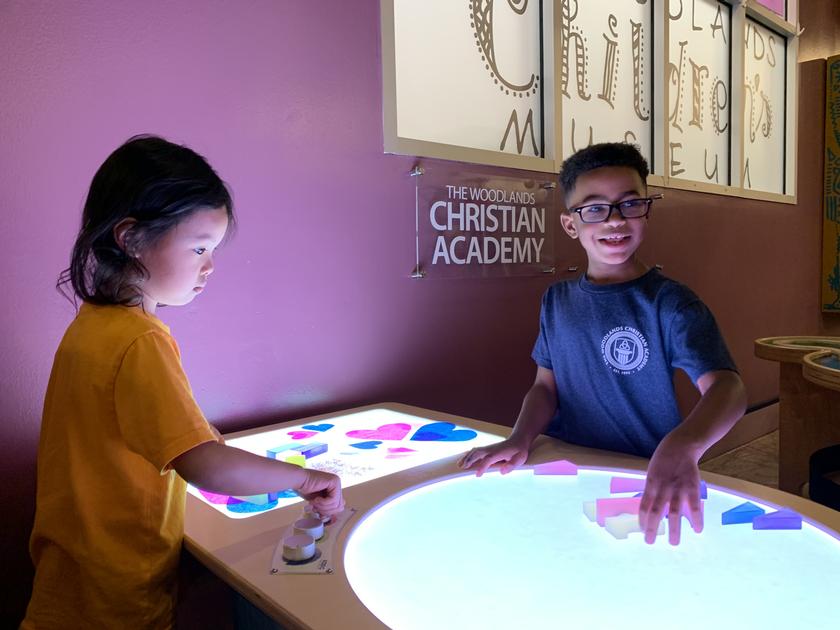 THE WOODLANDS, TX -- The Woodlands Children's Museum has added a new element to its science-based exhibits that allows children to explore light, shadows, illumination, reflection, transparency and similar concepts that make early learning fun for young visitors. The Spectrum Light Lab, made possible with generous support from The Woodlands Christian Academy, encourages investigation of white and colored light while engaging in play.
New Exhibit at The Woodlands Children's Museum
"We are excited to expand our science activities at the museum and are grateful to The Woodlands Christian Academy for sharing our vision," stated Angela Colton, the museum's Executive Director. "Their support allows young children to engage in problem solving and important early STEAM skills."
According to the National Association for the Education of Young Children, STEAM subjects (science, technology, engineering, art and mathematics) offer opportunities for children to use their minds and hands to play, explore and learn. Familiarity with STEAM concepts is also a key predictor of children's school success. The museum also offers a Light Peg Wall and a Magnetic Wall with gears, chutes and ramps that reinforce science skills.
"We are so happy to partner with The Woodlands Children's Museum because they are an ideal place for young children to learn," stated Patty Bruha, Lower School Principal at The Woodlands Christian Academy. "The museum is a place they can explore their interests through authentic objects, hands-on exhibits, and activities. Similarly, TWCA is all about fostering that love of learning in our young students. Our PreK-4th graders have access to STEAM classes that help develop critical thinking skills, where they approach a problem from various viewpoints, evaluate all possible options, and take different approaches to find a solution."
The Light Lab includes a circular light panel with knobs that allow children to mix colors and adjust brightness, saturation, hues and shades. The Lab also contains a rectangular panel to explore the fundamental elements of bright white light. Accessories such as transparent and translucent pebbles, blocks and beads let children immerse themselves in exploration. X-rays will also let children compare and contrast human images along with animals and insects.
The Woodlands Children's Museum is open on Tuesdays, Wednesdays and Thursdays from 10:00am – 2:00pm, Fridays from 10:00am – 4:00pm, and Saturdays from 10:00am – 5:00pm. Summer hours beginning June 1st through August 5th, the museum will be open Tuesday through Friday 10:00am – 4:00pm and Saturdays 10:00am – 5:00pm. Closed Sundays and Mondays. Admission is $8 for adults and children age one and older. Tickets and additional information can be found on the museum's website at
www.woodlandschildrensmusuem.org
.