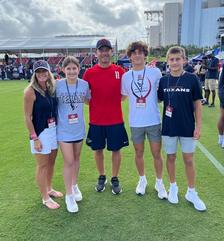 THE WOODLANDS, TX -- This week we are going to disprove the stereotype that most high school lacrosse/football players are dimwitted Neanderthal's. Or, from back in my day, Jocks.

The Woodlands High School two sport athlete, sophomore Luke Danna is far from dim and his life doesn't begin and end in the athletic arena. What drew us toward Luke to find out more about him was how humble he is. Luke is an elite lacrosse player and an up-and-coming football wideout. Yet, you'll never see him talking about himself.

Some people need how good they are verified and creatively search for ways to feel gratified. If Luke thinks he is good, you'd never know it. He just performs and performs very well. In inquiring about how he did after a recent lacrosse game, his answers are always about the team, and he refuses to give himself any credit. It's like pulling teeth getting anything out of him that relates to his personal game.

But, I digress, you'll never see a profile on here scribed about a person solely because of how they perform in the athletic arena alone. Is the student social? Selfless? In other words, do they go through life caring for others or do they walk around like they are God's gift to the planet?

When talking about Luke Danna, these qualities came out quite early. Inside family sources shared how Luke has always been a thoughtful and caring son and big brother. A specific time that stood out was when he and his family volunteered for an area food bank. Each family member was at a station and instructed on how much of a grocery item each were allowed to give each family. It was tough on Luke being there seeing so many kids and families in need. He was constantly suggesting to his mom that they need to give out more...and after the first few families, Luke was seen giving families more than he was supposed to and just reassuring them it was okay to take it.

So, does a young person just suddenly become an awesome person by osmosis? Far from it! It's always multiple reasons, but I'll give you two huge ones. Luke's parents are the salt of the earth. Upon meeting them, you instantly feel welcome and notice how unassuming they are. They have time for you. The other huge reason would be how well-traveled the family is. If you want to learn about life, move somewhere new every few years. Luke's father's occupation is such that if you are good at it, you'll be in demand in several places. Yup, dad is quite good at what he does. Therefore, they've lived in more places than a gypsy vagabond. Luke and his siblings have to pick up and make new friends at every stop. You gain a lot of valuable life experience when you are constantly meeting new people and making new friends.

Danna wouldn't have it any other way.

Let's get to know Luke Danna...

1. How long have you been playing lacrosse and football and why did these two sports win out
over other sports?

I started playing lacrosse in second grade because I got bored with playing baseball. Also, my uncle played goalie at a high level and I fell in love with it the first time I picked up a stick. I have had a strong desire to be the best at it from a young age. Football and lacrosse won out over other sports because I was always around football with my dad coaching in the NFL. Regarding Lacrosse, because of how much fun I have playing it. I was always a basketball guy, too and still enjoy shooting around. My parents have also encouraged my siblings and I to play multiple sports as athletes. However, there's only so much time to play three sports in high school so I had to drop basketball.

2. Describe your relationship with your teammates and coaches.

The majority of the lacrosse season, I haven't been able to get out there on the field with my teammates because I've been injured, but since I've been back the support along the way from all the coaches and my teammates have been second to none. In having just moved here last summer, everyone has been very accepting of me being the new kid this year. It's great to have a second family. Football makes it three families.

3. Your thoughts regarding The Woodlands High School?

The Woodlands has been great. The students, the school and the academics, etc... are great here. My old school, Creekside in Jacksonville was big, just not as massive. Both places have been enjoyable to be a part of.

4. Seeing as you are a sophomore, are you looking at any specific colleges to attend?

I'm really keeping my options open at the moment. This summer will hopefully create good recruitment opportunities and exposure to schools to help me pick a school that's best for me. I've always wanted to do something in sports, but I'm just not absolutely sure yet.

5. What do you hope to be doing after college?

Coaching has always been the dream. To do something like my Dad (NFL coach) or my Grandfather would be great. I know how hard it is. but I would be more than up for it...definitely something in the sports field though.

6. Outside of sports, how do you spend your time?

Hanging out with my family and my friends, whether that's going to get some food or hitting the field for extra work are some great things I enjoy. I've always been a Madden guy so I hit the Xbox when I can.

7. Do you have any sports role models?

Honestly, I have never had a straight up role model in a specific sport, but a close one without question would be Kobe (Bryant). I've always tried to have his mentality when I step on the field. Same with MJ (Michael Jordan) and LeBron (James)...just the mindset they have to elevate their game is the main thing for me. Jalen Ramsey, who my dad coached in Jacksonville I've always looked up to. He's a guy that just puts the work in day in and day out and that's the reason why he's one of the best in the league.

8. Tell us about your family and how important they are to you.

My family has been great through all the ups and downs. They always have me focus on the good in everything. This has been apparent coming off of my sports hernia which I'm trying to recover from. There has been a lot of traveling to and from games growing up for all of three of us kids. When I look back at how many miles have been logged, it's crazy how not once have I ever heard my parents express any negativity whatsoever...about anything! My brother (Zack) and sister (Lindsey) have been great. We are always there for each other through everything and always want to make each other better in sports and life.

9. If you were given a million dollars and were instructed to give it to one charity, who would
get it?

I would donate it to a Hunger program because I see how hard it is for people without food, and stuff that we need in every day life and everyone deserves that.

10. Three things people don't know about you.

I've lived in 5 different states. I've been to over 100 NFL games. I've recently had sports hernia surgery.

11. Can you describe what you enjoy most, being on an athletic team?

After winning an away game, the camaraderie on the bus is a feeling that's almost too difficult to describe. It helps when I think I've played well.

12. What kind of music do you like?

My life by J Cole. 21 savage and some favorites are Lil baby, Don Toliver, Travis Scott and many others.

13. Favorite movie of all time?

Remember the Titans.

14. If you were sentenced to death and told you are allowed to go on one last date, who is the
lucky girl?

Kylie Jenner has absolutely been my celebrity crush for years.

15. You move a lot. What are your pros and cons of moving a lot?

Positives: New experiences and how many people I have gotten to meet over the years. The amount of people that have impacted my life, whether they be friends, coaches, teammates, etc... Negatives: The stress that comes with having to make new friends and being a new face to people and worrying about if people will like you or not.

Luke's football coach, David Colschen talks about Danna...

'Luke is an incredible athlete, but an even better person and teammate. In the short time he has been with us he has been extremely coachable, hard working and truly a teammate that makes any team better not just because of what he brings to the field athletically, but more so of the positive attitude he brings to the team and his team first mindset. Since the day he arrived he has been fun to coach and watch grow as a player.'

Lacrosse coach, Anthony DeMaio chimes in...

'Luke is a kid that the sky is the limit for. His work ethic and attitude day in and day out are something you can not teach. He is not only a great player on the field, but is a great teammate. Off the field he is a joy to be around. His impact on our team is more than just something you see on the field. He carries a chip on his shoulder in everything he does. Lukes's improvement over the past several months has been immense and has everything to do with being coachable, his hard work, and dedication to mastering his craft. His ability to compete day in and day out is something that not everyone sees on a day-to-day basis, but is a huge reason why he is the player he is today. To me, Luke is a guy that you will be seeing play on TV in a couple years at the highest level.'


Rarely do we include parents in our profiles, but we are making an exception on this one because of how tight Luke is with his parents. Joe and Nicole Danna along with Luke and younger siblings, Zack and Lindsey share a special bond. The relationship these five share is nothing short of amazing. In just about every family there will be a period of time through the teenage years when the parents lose their children because they no longer think their parents are awesome. I truly think this family will skip that whole process.

From the moment Luke could walk, he could throw a ball, catch a ball, hit a ball and kick a ball. His parents never had to encourage him to participate in sports, he was always in the yard doing it and he could never get enough of each sport he was exposed to.

He appears to be a born coach. When he's not playing sports, he's watching them while critiquing, analyzing and studying. He is constantly soaking up information.

In observing Danna give a lesson to two new to the sport junior high lacrosse players, it is apparent why he wants to be a coach. His charges are riveted and enjoy every second of the lesson. A lot of excellent athletes are not able to relay the information because it all came naturally to them. They were such good athletes; they were able to skip right over the learning process altogether. Luke is not only an excellent player, he remembers the little things he experienced all through the learning process.

Unfortunately, we will be losing the Danna family after this school year as they will be moving once again. Yup, dad is moving up the ladder of success once again. Luke plans on making his only lacrosse season here in The Woodlands a memorable one. One thing is for sure, he will give every ounce of everything he has stored inside him to help the team go as far as they can, come the postseason. He and the team will be making lifelong memories within this next 30 days.

Maybe Kylie will come watch if the team makes it to the show.

One thing is for sure, regardless of how this season turns out, Although Luke and his family will have been here for less than a year, their time here will have been well spent and their grace will be remembered forever.