HS Baseball Playoffs: Cy Woods takes an Early 1-0 Lead in Regional Finals Series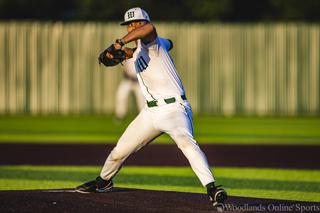 HUNTSVILLE, TX -- The Woodlands and Cy Woods met up in the Regional Finals at Sam Houston State University's Don Sanders Field on Thursday night. These finals will be a three-game series once again and will determine who will move on and whose season will end.

Chase Morgan was the starting pitcher for Cy Woods while Ethan Coronel started for The Woodlands. It would look to be a pitching and defensive battle in the first and second inning but Cy Woods would heat up a bit in the third.

Tristan Russelll would start off his day with a triple far into the outfield which brought a runner in. With a play at the plate, Russell would slide in his run which would give Cy Woods a 2-0 lead heading into the fourth.

Coronel would struggle on the mound, loading the bases but with a huge outfield save, the top of the inning would end without anyone crossing home plate.

This would give The Woodlands the momentum starting with a Bryce Graves hit up the middle which brought a runner in. Carson Kimball would double and a runner would slide in home, tying the game up at 2-2.

Once again Russell would bring another run in, in the next inning. This would give Cy Woods the lead again but The Woodlands wouldn't let up.

In the top of the sixth, Reagan Gayle would load up the bases with one out and walk the next batter which would tie up the game at 3-3.

Brayden Sharp would hit one into deep center field which would bring in a runner but due to passing up a base runner he would be called out which retired the side heading into the final inning.

Cy Woods would make a last minute play and bring in two runs taking back the lead from The Woodlands and eventually winning the game 5-4.

The Woodlands and Cy Woods are set to play at Sam Houston's Don Sanders field again tomorrow (Friday) at 7 pm.