/

/

The Woodlands Photography Club invites shutterbugs to the June Social and Swap Meet
The Woodlands Photography Club invites shutterbugs to the June Social and Swap Meet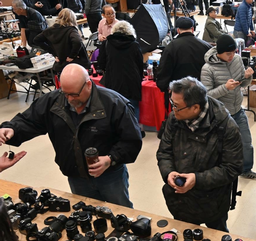 THE WOODLANDS, TX - The Woodlands Photography Club announced a special take on its monthly meeting with the June Social and Swap Meet, taking place on Wednesday, June 21, 7 to 9 p.m. at the South County Community Center.

'We hope to have our largest crowd to date for our June Photography Club Extravaganza,' said the club in a statement. 'There will be something for everyone. Please come check it out. It's also a great time to invite a guest, as there will be plenty of time to get to know fellow club members.'

Social time is where attendees can mingle around the community center to meet members and guests while sharing a bite to eat. They request that attendees bring a snack to share. The club will provide drinks. Tables will be set up for attendees to place food items for sharing.

The Swap Meet will be where anyone can bring any type of camera-related equipment or photos to sell, trade, or give away. 'If you have items in your closet gathering dust or want to sell your current items so you can upgrade, this is your opportunity. You can set any price per item,' continued the statement. Participants are encouraged to email darrylwscearce@gmail.com to let him know you will bring items.

'Meet your Mentors' will be a booth with experts of different disciplines that have signed up to help other club members. This is a great chance to ask questions or just get to know them better. There will be some very knowledgeable photographers willing to share their experiences.

Members may submit two (2) photos (without a watermark listing the photographer's name). The theme for the Mini-contest for June is "Abandoned Things." Digitally share your work for all to see.

In addition to the mini-contest, there will be a slide show where everyone can submit up to 10 pictures on any theme this month. This will be an excellent way to share some of your favorite work. The slides will be displayed as part of our slide show exhibition. All pictures must be submitted by Noon on Sunday, June 18.

Lastly, stop by the comment booth to provide feedback about any aspect of the club, including whether you would like to do more of these social events. It's going to be a fantastic evening with something for everyone.