/

/

Blue Magnolia Supports Misd Life Skills Teachers and Students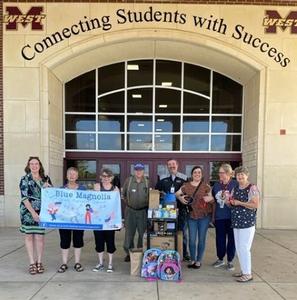 MAGNOLIA, TX -- Blue Magnolia, a coalition of the 10 Magnolia Democratic Precinct Chairs, collected and donated items to the Magnolia West High School Life Skills classes. Ernie Halsell, Precinct 18 Chair and grandfather of a MWHS student, organized and promoted the collection for Blue Magnolia. As Halsell stated "the Life Skills teachers and students are often overlooked during school supply donation drives." These students and teachers often can use specialty items outside those needed for a regular classroom and this donation drive focused on collecting those items.
Local Democrats Donate Needed Supplies
After reaching out to determine what was most needed for the students, Blue Magnolia collected many items on the teachers' wish list, including headphones and noise-cancelling headphones. The donations will be shared among the six Life Skills classes at MWHS.
Life Skills classes are taught by dedicated teachers who are committed to their special needs students from preschool through high school. Magnolia ISD has 235 students in their Life Skills and Able classes. They have approximately 2,300 students in Special Services, with almost another 200 referrals for this year. While the district receives funding from the state and federal government, donations to these programs are always appreciated!