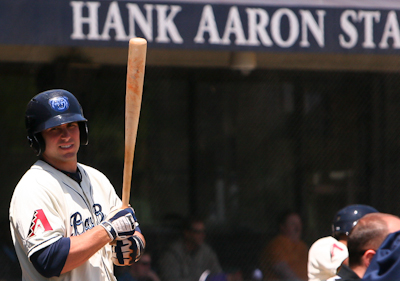 MOBILE, Alabama – Paul Goldschmidt is off to a good start to the 2011 baseball season. He ended the week as the leading hitter for the Mobile Bay Bears, a Class AA team in the Southern League and minor league affiliate of the Arizona Diamondbacks.

Goldschmidt helped lead The Woodlands High School, along with Toronto Blue Jays pitcher Kyle Drabek, to the 2006 state baseball championship. And following a stellar career at Texas State University, where he was named Southland Conference Player of the Year and a NCAA Division I All-America, Goldschmidt was drafted in the eighth round of the 2009 Major League Draft.

Not only is Goldschmidt leading Mobile in hitting, with a .351 batting average, he also paces the BayBears in homers (11 in 97 official at-bats), RBI (29), on base percentage (.492) and slugging percentage (.742).

Goldschmidt, a 6-3, 245-pound first baseman, leads the league in homers and RBI and is fifth in hitting. He has the BayBears in first place (17-11) in the South Division.

Since being drafted, he has led the Pioneer League in home runs (18) and was named California League MVP and Rookie of the Year in 2010 with 35 homers, 42 doubles and 108 RBI for Visalia.

Goldschmidt is considered the No. 11 prospect in the Arizona Diamondbacks organization, according to Baseball America.

His younger brother, Robbie Goldschmidt, is currently helping The Woodlands High School baseball team through the 2011 state playoffs.