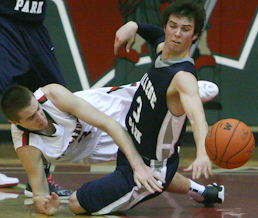 THE WOODLANDS, Texas – The scene shifts to College Park High School for the second district battle between The Woodlands High School boys' basketball team and the Cavaliers from College Park. The 7 p.m. Friday game holds the key to the District 14-5A championship for College Park, which has already clinched at least a share of the crown.
Weekend preview
The Cavaliers (27-6, 10-0) moved up to No. 15 this week in the Class 5A state rankings, one spot ahead of the No. 16 Highlanders (27-4, 8-2), who were upset at home Tuesday 38-35 by Kingwood.
College Park won 64-58 in the first meeting between the two teams on The Woodlands' home court, snapping a four-game losing streak to their neighboring rivals.
Zach Wright scored 16 points to lead College Park while teammates Layton Zinsmeister and Evan Cooper played key roles with 14 and 13 points respectively. The Woodlands' Joey Trinkle countered with 22 points while Brian Baehl and Garret Colonna added 13 and 10 points respectively.
That game wasn't decided until College Park made a 17-12 run over the final eight minutes.
Since College Park began playing varsity sports, the boys' basketball rivalry has been a consistent one. The team that has won the first game has always captured the second one as well. A win Friday would give College Park its first district championship since the 2008-09 season.
The Woodlands Christian Academy boys' basketball team completed a sweep of TAPPS District 7-3A on Thursday with a 61-32 victory over Katy Faith West. The Warriors (24-8, 8-0) got 24 points and 14 rebounds from James Bento. Todd Eaglin and Colton Wilkins split 18 points while Darby Dewine added six points and six rebounds.
Stew Gettys finished with five points and nine rebounds and both Justin Jeggle (seven rebounds) and Jeremy Swisher contributed with four points apiece.
The Woodlands High School girls' basketball team, ranked No. 14 in the state, also completed a sweep of District 14-5A on Tuesday. The Lady Highlanders finish the regular season at 29-2 overall and 12-0 in district play.
They will participate in a bi-district playoff doubleheader with College Park (15-13, 8-4) on Tuesday at Tomball High School. The Lady Highlanders take on Klein Forest at 6 p.m. followed by College Park facing Klein Collins at 7:30 p.m.