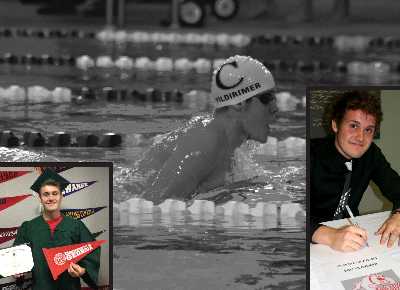 THE WOODLANDS, Texas -- Swimmer Ediz Yildirimer, a 2012 graduate of The John Cooper School, has qualified to compete for his homeland of Turkey at the London Olympic Games to be held July 27 through Aug. 12.

This will be Yildirimer's second time to swim for Turkey inthe Olympic games. He was the youngest athlete on the Turkish swim team at age 14 in 2008 when they competed in Beijing. Yildirimer was told June 28 that he qualified to compete in London.

"This is a dream come true for me and I am beyond excited right now," he said. "I don't even know what to do or say."

He will compete in the 1500 event on the morning of Aug. 4.

Yildirimer has been swimming since he was six.

"It has been a big part of my life for 12 years," he said. "I tried basketball, but I was too short. Then I tried swimming and I fell in love with it right away. I had no big goals, it was just fun and swimming made me feel happy."

As natural talents emerged, coaches recognized Yildirimer's potential and soon found that he enjoyed swimming competitively.

"I love racing, it's so fun," he said. "Competition is healthy."

Yildirimer began swimming with The John Cooper School swim team, and The Woodlands Swim Team (TWST) under coach Tim Bauer, in August 2009, when he enrolled at Cooper as a foreign exchange student. He swims distance freestyle in the 400, 800 and 1500. As a member of the Cooper team that competes in the Southwest Preparatory Conference, Yildirimer helped his team place second overall in 2012 SPC Winter Championships.

Yildirimer has chalked up an impressive number of records and swimming accomplishments. He held the U.S. record in the 1650 for his age group in 2011 and at just 17 currently holds the national record in Turkey for the 800 and 1500. He has won the last two European Junior Championships in the 800 and won two bronzes in the 1500.

As a participant in the 2008 Olympics, Yildirimer had the opportunity to see Michael Phelps win all eight gold medals. And having competed at that level before, he said he knows only too well what it takes to prepare. As a senior at Cooper, an average day would be to be to swim for two hours before a full day of classes at the college preparatory school, followed by another two-and-a-half hours in the pool each afternoon, six days a week.

"You have to be at your top level all the time," he said. "Sometimes it's tough mentally to push yourself to the max every day, but you can only get better when you push past your breaking point."

Despite the intense rigor of both course work and swim practice, Yildirimer insists that he still competes because it's fun.

"Swimming is a fair sport," he said. "If you work, you get what you deserve. It's all based on how much work you do."

Yildirimer hopes to take his talents to swim for The University of Georgia in the fall. Although he says he is a laid-back guy, his goals remain high. He hopes to win the NCAA title all four years at Georgia.