/

/

Varsity Team 1st in Forestry/Wildlife, 2nd Overall at State Envirothon Competition
Varsity Team 1st in Forestry/Wildlife, 2nd Overall at State Envirothon Competition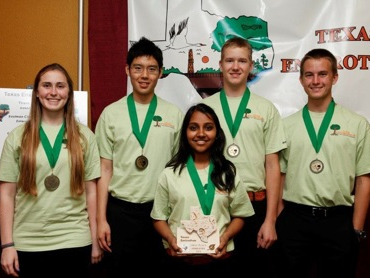 THE WOODLANDS, Texas -- The John Cooper School fielded two teams in the 2013 Texas Envirothon Competition that was held in McAllen, April 5-8. The varsity team captured top awards in specific categories and a second place finish overall.
The varsity team was led by captain Amanda Leary and also included fellow seniors Ji-Heon Ahn, Carson Pepper, Yarlini Vipulanandan and John Cuyler Burton. The team won second place overall and in specific categories, placed first in forestry and wildlife, second place in aquatics and the current issue and third place in the oral presentation.
Members of the junior varsity team that tied for first place in the soils category, included Kendall Daniels, Albert Yang, Laura Densmore, and Jenaya Ferguson.
"Both teams prepared and delivered a plan for the sustainable use of a 1500-acre ranch tract to a group of judges who are specialists in the field," explained biology teacher and science department chair Dr. Tina Davies.
Envirothon is an academic, extra-curricular environmental and natural resource education program and competition designed for high school students. Teams of five students work together to answer questions focusing on aquatics, forestry, soils, wildlife and a current environmental issue.
"I was very proud of both of our teams," Davies said. "They worked hard to learn as much as they could about wildlife, aquatics, trees, soil and this year's current environmental issue, which is very important in our area—the sustainable development of ranchland. We had a wonderful visit to Kendall Daniels' dad's ranch, which was very helpful in preparing us for the competition."
The John Cooper School is an independent, college preparatory school for students in grades PK-12.