/

/

Basketball court to operating room; young man never imagined facing sudden death
Basketball court to operating room; young man never imagined facing sudden death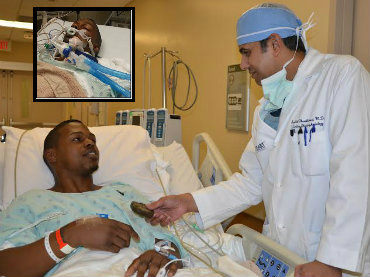 THE WOODLANDS, Tx. (Feb. 21, 2014) – At 24 years old and the picture of health, Patrick Brown never imagined a fun game of basketball with friends would turn into the fight of his life.
Memorial Hermann The Woodland Hospital Offers New, Less Invasive Heart Defibrillator
Brown was shooting hoops at a local fitness center with friends when he started feeling ill, sat down, and collapsed.
"I passed out once when I was in high school, but didn't know I had anything wrong with my heart," said Brown. "I just thought I was dehydrated, overtired, or something."
His friends ran to his side and used the gym's automated external defibrillator to restart his heart. An ambulance rushed him to Memorial Hermann The Woodlands Hospital where Cardiac Electrophysiologist Senthil Thambidorai, M.D. took over.
"When I saw Patrick, he was critical with a tube helping him breathe. We didn't know which way he was going to go," said Thambidorai, who completed his fellowship at The Cleveland Clinic. "Immediately, we performed a comprehensive cardiac work-up and determined he was suffering from an electrical abnormality of the heart which caused his sudden cardiac arrest."
Ventricular fibrillation is where the heart beats so fast and irregular that it stops pumping blood. If left untreated, patients invariably die. Frequently, doctors implant a cardioverter-defibrillator to reset the rhythm causing electrical activity and cardiac contractions to resume.
"Young people usually do not have any warning signs; Patrick was very lucky," said Thambidorai. "He was also fortunate to be transported to Memorial Hermann The Woodlands where we offer some of the most advanced cardiac care anywhere."
Thambidorai led a multi-disciplinary team to implant a subcutaneous implantable cardioverter-defibrillator (S-ICD) into Brown. Memorial Hermann The Woodlands is the first hospital north of Interstate 10 to offer this new, less invasive heart defibrillator to patients at risk for cardiac arrest or who have suffered one.
Traditional implantable defibrillators to jump-start stopped hearts are lifesaving for many patients, but electrical wires must be threaded through veins into the heart. Placing the electrodes is challenging, and the wires have been known to cause infection, break, or dislodge. Removal can be problematic because the wires sometimes heal into veins in the heart.
"We are excited to offer, especially our young patients, a unique type of implantable cardioverter defibrillator without transvenous wiring," said Thambidorai, who participated in the trial studies of the innovative device. "Instead, a single wire runs just beneath the skin to the breastbone, where is it anchored with a few stitches. It detects cardiac arrest without directly touching the heart. Moreover, the amount of radiation used is equivalent to just a single X-ray.'
Approved by the U.S. Food and Drug Administration in 2012, results from a non-randomized trial published in the journal Circulation in 2013 found the device was as effective as defibrillators with wire to treat ventricular tachycardia and ventricular fibrillation.
"Especially for young people like Patrick, this new technology improves mobility and eliminates future problems with infection' said Thambidorai
"I thank God for giving my doctors and nurses the skilled hands to fix my heart," said Brown. "Maybe I'll have to ease up a little bit on the contact sports and take up golf; I do have a set of clubs I've never used."