/

/

Local high school students make PODS® of Houston Muse for Woodlands Waterway Art Festival display
Local high school students make PODS® of Houston Muse for Woodlands Waterway Art Festival display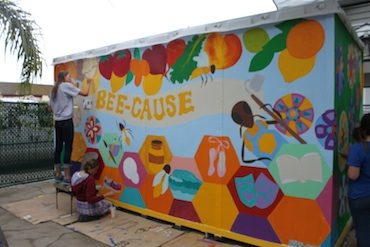 THE WOODLANDS, Texas -- The Woodlands College Park High School's National Art Honor Society art students have been selected as the only student collaboration at the Woodlands Waterway Art Festival (WWAF) the weekend of April 12-13.
The Woodlands College Park High School National Art Honor Society earns rare opportunity to present as only school collaboration to participate in esteemed art festival
The student group, led by 2013 David Gottlieb Outstanding Visual Arts Teacher of the Year Betty Arnold, will have an art project of epic proportions as moving and storage leader PODS of Houston has donated a PODS container as a canvas for their exhibit.
"I'm thrilled that these students are getting the opportunity to showcase their creativity at a prestigious event," says Jenny Wright, WWAF director. "Ms. Arnold and her students are a spectacular group who do so much for the local arts community, volunteering at events to share their work at kids' art camps and elementary schools. Their passion for art truly shines through the work they do, and I look forward to seeing what their creative minds will come up with."
Students from the art group drafted 20 unique art concepts to pitch for the mural design for the PODS container. Wright and PODS of Houston Managing Partner Phil Dvorak selected the two winning designs that will be featured, both of which they felt encapsulated the energy of WWAF.
"We're proud to have the opportunity to be part of WWAF this year because it's such an important cultural event for the state of Texas," Dvorak said. "It's awesome to see how inspired the students become when they are challenged to do something out-of-the-box. And I think our PODS containers offer the perfect canvas for them to create together something extraordinary that will be seen by hundreds of thousands of cultural tourists."
WWAF is a celebration of all types of art and attracts artists, art enthusiasts and tourists from across the nation. Greg Lawler's Art Fair SourceBook has ranked the art festival #1 in Texas and #3 in the nation for fine art sales among more than 600 art fairs in the United States. This is the second year PODS of Houston has donated a PODS container for creative purposes for WWAF. Last year The Woodlands High School's art club had the opportunity to transform the PODS container into an art piece.
WWAF is one of several organizations that have used PODS containers as a canvas for artistic passion. In Los Angeles, the Little Tokyo Design Week featured 16 containers which were morphed into small galleries that focused on design and technology from Japan. Other locations such as Tampa Bay, Fla. and Lexington, Ky. have also participated in the mobile art trend by creating an artistic experience from a PODS container.
For more information on The Woodlands Waterway Art Festival, visit http://www.woodlandsartsfestival.com/.