/

/

Local comic store will have a booth at Comicpalooza this weekend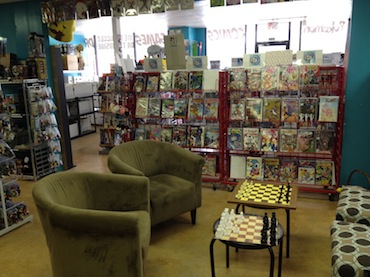 THE WOODLANDS, Texas - Pop culture is becoming increasingly dominated by the comic book superhero. Marvel's "The Avengers" is a perfect example: it's the third-highest grossing film of all time. One business that benefits from this trend is Oak Ridge North's Space Cadets Collection Collection, located at 27326 Robinson Road. That's not a typo: Space Cadets is a collection of collections: everything from comic books, toys and video games.
Space Cadets Collection Collection will be at the George R. Brown Convention Center this weekend, May 23-26, for Comicpalooza.
Space Cadets began as a modest comic book store in September 2010.
"When we opened, we were half this size," said owner Jennifer Ann King. "We had pretty explosive growth."
Last November, the store expanded to encompass the suite next door. The expansion enabled them to open a small restaurant inside the store, the Lava Cookie Café.
"We're the only comic book shop with a full-service café," said café owner Vivian McEwin. Everything on McEwin's extensive menu is served completely fresh. She even makes her own ice cream.
On Friday, Space Cadets will travel to the George R. Brown Convention Center in Houston to continue a tradition it has kept for the past four years by manning a booth at Comicpalooza, an international comic convention.
Comicpalooza began in 2008 as a signing event set to coincide with the release of "The Dark Knight," according to the convention's website. The following year, it was re-imagined as a two-day comic book festival at West Oaks Mall with an emphasis on promoting creators and connecting with media and fans.
In 2010, Comicpalooza was held at the George R. Brown Convention Center for the first time. The convention has expanded beyond comic books to encompass anime, science fiction, fantasy, video games, movies and more. It now lasts four days.
"It's grown in leaps and bounds," said King.
This year, the convention's most prominently featured guest is Stan Lee, the former president and chairman of Marvel Comics who is widely considered to have revolutionized comic books.
"I didn't expect them to announce Stan Lee, but I'm glad they did," said King. "I think he looks sharper now than he ever did."
At the convention, King expects to stay at the Space Cadets booth, leaving her post only for meals and potentially a celebrity visit or two. However, King and her employees have devised creative ways to avoid monotony over the four-day period.
"We've made the fun come to us," said King. "Every day at 12 p.m., we'll have a flash mob in front of our booth."
Many regular customers of Space Cadets plan to be in attendance at Comicpalooza.
"I'd probably say at least half of my customer base is coming," said King.
The convention also allows King and her employees an opportunity to expand their customer base. Additionally, they enjoy connecting with other businesses and comic enthusiasts.
"I love the opportunity to meet people… coming from other countries and states and hear about what their collecting passions are," said King.
Comicpalooza is a large and diverse convention. Different events such as "Kids in Cosplay", "Gender in Science Fiction" and "Godzilla and Beyond! An appreciation of Japanese monster movies and their far reaching influence," cater to a variety of ages, genders and cultures. According to King, diversity should be a staple in comic book culture, so she tries to incorporate it in her store.
"In most people's minds, when they think of a comic book store… it's aimed to a teen and young adult male crowd, which I think does a disservice," said King. "One of my goals is to make it accessible."
King works to cater to a variety of ages.
"I wanted to turn the industry on its ear and make this a completely family-friendly place," said King. "I talk to parents all the time. There's no reason you shouldn't encourage [kids] to read comic books."
King is a proponent of using comic books, games and other media as tools of education for children.
"My kids learned how to read doing Pokémon," said King. "They learned how to do math doing Pokémon: basic addition and subtraction."
Space Cadets has events every day of the week. The store holds leagues for interests ranging from "Cardfight!! Vanguard" to "My Little Pony," and even to retro video games. Once a month, after hours, the store becomes Cadets After Dark, a space where only people ages 17 and older can enter to watch an R-rated film.
During school breaks, Space Cadets also holds various day camps. Some are fandom-based, such as "Minecraft" and "Doctor Who" camps. Others are strictly educational, such as music camps for fifth and sixth graders that allow children to learn music basics before entering middle school. There is even a soundboard design camp.
Though Space Cadets is already a thriving business, King expects it to grow even further. The recent growth of comic book-based movies has become instrumental in creating interest for stores like hers.
"It has a high growth potential," said King. "Movies coming out are comic-related. They've helped tremendously."
Space Cadets welcomes customers with all sorts of interests, whether their enthusiasm lies in superheroes, science fiction, crime noir or even documentary comics.
"We have so much variety," said King. "Our goal is to have this be a social hub." The Space Cadets booth at Comicpalooza will be located near the back left on the first floor of the George R. Brown Convention Center. For information about the store, visit the link below.