/

/

Increase of animals at Friends of Texas Wildlife due to recent inclement weather
Increase of animals at Friends of Texas Wildlife due to recent inclement weather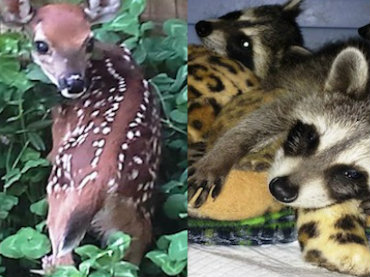 MONTGOMERY COUNTY, Texas - Friends of Texas Wildlife, located in Magnolia, is a non-profit organization that cares for injured, displaced and orphaned wildlife in Montgomery County. The facility cares for all kinds of wildlife including turtles, deer, birds, and many other species.
The volunteers at Friends of Texas Wildlife are in need donations and supplies that will go directly toward rescued animals.
Due to the recent heavy rains, high waters and flooding over the past couple of days, there has been a significant impact on many species of wildlife babies throughout the community.
This past week has been extremely busy for Friends of Texas Wildlife, as many animals have been dropped off at the facility, the most common being baby raccoons and fawns. When the facility receives an influx of animals like this, money and resources are spread thin.
"We are halfway through fawn season and we already have about 25 in care, and well over 50 baby raccoons," said Executive Director of Friends of Texas Wildlife, Lisa Wolling. "Not to mention all of the owls, hawks, songbirds, and wading birds being displaced with heavy rains and winds."
The facility is in dire need of monetary donations as well as tangible items such as paper towels, baby wipes, wild birdseed, baby blankets, and stuffed animals. Due to an increase of baby animals, the organization is in need of more formula to feed them: one of the many necessities that monetary donations go towards. Wolling notes that 100% of the money donated to the organization goes directly toward the care of the animals.
For more information on Friends of Texas Wildlife and to donate, visit the website below. To donate items to the facility, email the organization via the icon below.