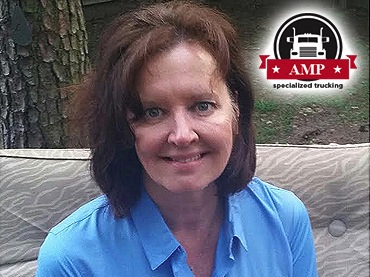 THE WOODLANDS, Texas – When Robin Merritt-Price had the opportunity to start her own business doing what she loved most, she went for it. After years of working for others, Price followed her passion and started AMP Specialized Trucking, LLC, a business that focuses on transporting heavy equipment both domestically and internationally.
AMP Specialized Trucking has grown to be among the top heavy haul trucking companies in both the United States and Canada.
A daughter of a military man that worked logistics in the army, Price grew very familiar with trucks and trailers when she was young. In fact, Price remembers road trips with her family where instead of playing the "ABC" game, they played "Identify the Truck."
"We were so into it," laughed Price. "I knew all of the types of trucks and trailers out there."
For years, Price worked as a recruiter for professionals such as plant managers, IT managers, and engineers, but when the economy fell about 10 years ago, she lost her job. With three children to support on her own, Price found a job as a truck finder.
"A truck finder is someone whose only job is to put the right truck that has been safety rated on the load," said Price.
Soon, Price started to move up in the company and she started to see the money that could be made in the business, specifically business focused on the gas and pipeline industry.
"I started building my own base of drivers and customers through the oil, gas and pipeline business, and man did it take off," said Price. "That is when I broke out on my own."
Price soon started AMP Specialized Trucking in partnership with Logistic Dynamics, focusing on heavy haul transportation. Combining quality customer service available 24/7, great attention to detail, safety rated drivers and state-of-the-art technology and equipment, AMP Specialized Trucking has grown to be among the top heavy haul trucking companies in both the United States and Canada. AMP offers many services to customers, including heavy hauling, -ver deminsional with a large carrier base of RGN's, flatbed & step deck, dry van, intermodal, power only and rail transport. From construction machinery, farm equipment, and oil and pipeline supplies, AMP Specialized Trucking will get shipments from point A to point B while making it an easy, stress-free process for the customer.
In a mainly male dominated field, Price, owner and CEO, takes pride in the fact that AMP Specialized Trucking is a 100% woman-owned freight transportation business.
"It is an honor because females are the minority in this industry. I know my stuff," laughed Price. "I have met so many great people through this business that I can say are my friends now. It is not about the money. It is about taking a million dollar piece of equipment and telling the customer, 'I've got it, don't worry, I'll take it where it needs to be.' I am going to take care of my customers, and that is a guarantee."
With a mission to provide top quality transport services and upstanding customer service, it is no mystery why AMP Specialized Trucking is a highly accredited transportation business with lots of honors and awards to its name. For Price, hard work really does pay off. In 2013, AMP Specialized Trucking won the Million Dollar Buffalo Bronze award and the Stellar Performance award of the year. 2014 was just as successful for the business, taking home the Buffalo Bronze award , 2 ½ Million Dollar Club award and the Fast Track Award.
"Not everybody can do specialized equipment because there is so much involved," said Price. "You have to really guard your customer's equipment from the point of pickup to the point of delivery."
No matter the shipment, AMP Specialized Trucking will be sure to deliver it safely and on time. Price and her team know the ins and outs of the transportation business and understand the importance of top-notch customer service. After all, this is Price's dream job.
"No matter whether you are male or female, or what your situation is, the American Dream still exists. You just got to go for it," said Price.
For more information about AMP Specialized Trucking and to contact them about their services, visit the website provided below, call 832-663-5227, or send an email to info@heavy-haul-trucking.com