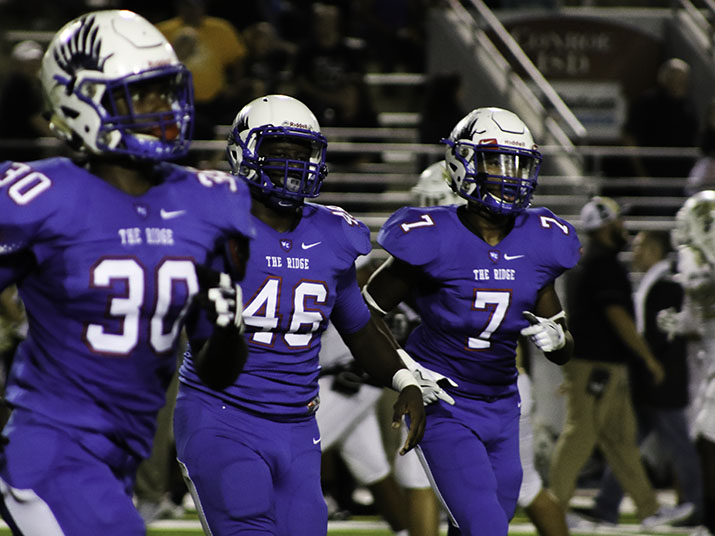 THE WOODLANDS, Texas -- The Oak Ridge War Eagles defeated the Conroe Tigers 38-13 on Friday night at Woodforest Bank Stadium in the first district game of the 2016 season.
Watch the highlights here.
Watch the full game On Demand here.
Conroe received the opening kick off and took their first drive down to the end zone for a touchdown catch by Tiger senior wide receiver Kelly McFarland, on a pass by senior quarterback and captain Colby Kizzie. The Tigers took the lead 7-0.
Oak Ridge wouldn't stay down long, taking their first drive down to the opposite end of the field. The War Eagles scored on a touchdown run by senior running back Jimmie Moore. Moore took the handoff from junior quarterback Bishop Durst and ran up the middle for the 14-yard touchdown run, tying the game 7-7.
The War Eagles made another drive in the first quarter, but the Conroe defense stopped Oak Ridge short of a touchdown. The War Eagles settled for a field goal by senior kicker Jason Maples. The War Eagles entered the second quarter up 10-7.
In the middle of the second quarter, Oak Ridge's Durst kept the handoff and ran for a 13-yard touchdown, just getting the ball inside the pylon. The second half ended with Oak Ridge up 17-7.
In the second half, most of the offense came from Oak Ridge's Jimmie Moore, who was our Team Sinisi player of the game.
"Jimmie has been solid for us the whole year," said coach Dereck Rush. "It started in the offseason with him as far as dedicating himself in the weight room and also running track. He got faster, so he's doing well for us right now."
Watch the player of the game here.
In the third quarter, Moore ran for two touchdowns. The first was a 3-yard run up the middle to put the War Eagles up 24-7. The second was a 32-yarder that forced Moore to break a few Conroe Tiger tackles to make it into the end zone. Oak Ridge headed into the fourth quarter up 31-7.
The scoring wasn't done for the War Eagles going into the fourth quarter. With 7:13 left to go in the game, junior wide receiver Tanner Lacy caught a 39-yard touchdown pass from Durst, putting the War Eagles up 38-7.
The Tigers did not want their district opener to end with them scoring only one touchdown. With 4 minutes left in the fourth quarter, junior running back Donaven Lloyd ran the ball in from the 2-yard line. A missed extra-point attempt brought the score to 38-13.
Coach Rush said after the game that is was important for them to get their first district win.
"This is what counts to get to the playoffs, and where we are as far as a football team as far as getting better," Rush said. "I think we took strides in the right direction on the offensive side of the ball and the defensive side of the ball. So we've just got to continue to get better. The offensive line stepped up and played well. We've still got a long way to go on both sides of the ball, but hopefully we can make this a stepping stone for the better."