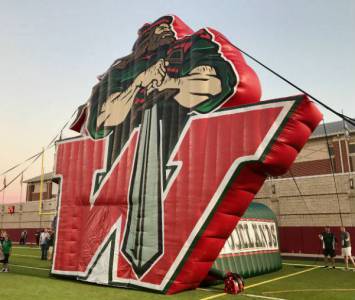 THE WOODLANDS, Texas -- The Woodlands Highlanders take on the Lufkin Panthers Friday Oct. 6 at 7:30 p.m. in a war between two of the best teams in district 12-6A.

The Highlanders come into this game after having a bye week before starting district play. The Woodlands will be the more prepared team going into Friday night and they will need as much preparation as possible with the injury of starting quarterback Quinn Binney.

Quinton Johnson will step up this week under center against Lufkin which is no easy task for anybody. Johnson will have to utilize the speed of his receivers and throw to quick routes. Kesean Carter will be a big target in the passing game this week -- expect Lufkin to use double coverage on Carter.

The defensive game plan for The Highlanders is pretty simple: pass coverage.

Lufkin has the best receivers group in the district and quite possibly the state. The trio of Savon Fields, Malik Jackson and Jeremiah Davis is dangerous and they will kill The Highlanders vertically if they aren't ready for it.

Lufkin comes into this week after a low-scoring affair against College Park on Sept. 29 as they only scored 21 against an improving College Park defense. The passing game struggled a little bit at times for them and it didn't seem like they were on the same offensive roll as they usually are.

Against The Woodlands, Lufkin will have to bring the A-game at all times because The Highlanders will be extra prepared. Lufkin's key player in this game will have to be Savon Fields who plays offense, defense and special teams for them. Fields main position is at Safety but he will have to put the team on his back in this one. On defense, Lufkin has the advantage with a big front line and a speedy secondary. The front line will have to do a good job of pass rushing to keep Quinton Johnson on his toes and try to cause mistakes.

This game has potential to be the best district game all year and both of these teams will be fighting for that top spot in district by season's end.

I have the Highlanders taking this one 31-21.

The excitement will be at Lufkin High School Friday, Oct. 6 at 7:30 pm. Don't blink or you'll miss it.