/

/

Memorial Hermann The Woodlands Medical Center offers new procedure for recurring strokes
Memorial Hermann The Woodlands Medical Center offers new procedure for recurring strokes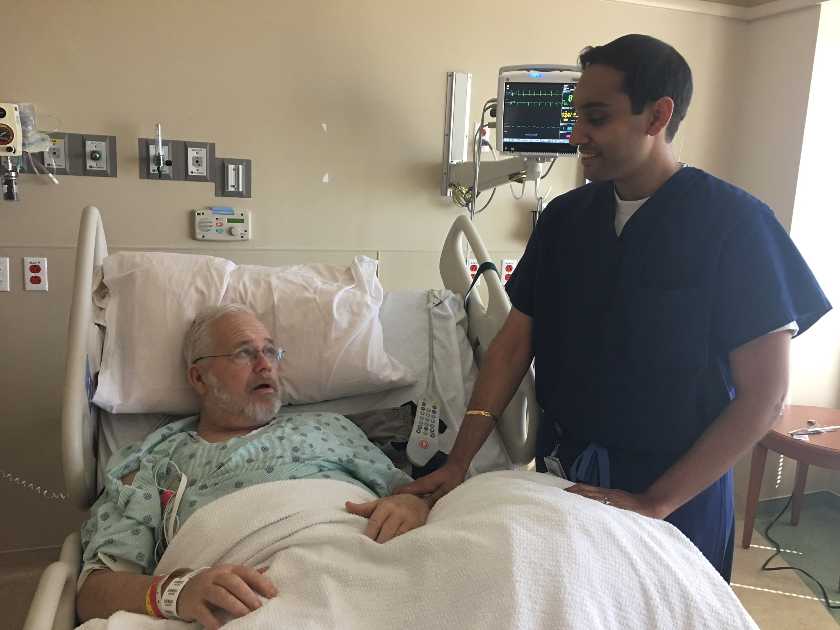 THE WOODLANDS, Texas -- According to the American Stroke Association, stroke is the leading cause of serious, long-term disability in the United States. Furthermore, more than 133,000 Americans die from stroke every year.
When it comes to identifying the symptoms of a stroke, seeking prompt medical attention with the right treatment can save lives and improve recovery. It can be the difference between life and death, or a full recovery and long-term disability.
This was the case with Montgomery County resident David Hellard. Hellard, a retired school teacher, lived an active life managing his landscaping business, hunting, fishing and shooting sporting clay professionally. He never missed an event that centered around his wife of 38 years, four children and one grandchild – until Thanksgiving morning 2016.
Hellard was finishing a landscaping job when he started to feel light-headed and dizzy, and experienced a severe headache. As he stood up, his left leg was numb, forcing him to drag his leg as he attempted to walk. While he was alarmed at the condition of his leg, he attributed the numbness to working in the same stationary position for a lengthy period. However, the following morning he struggled to walk, his speech was severely slurred and his tongue felt swollen.
Hellard was rushed to the emergency room, where doctors confirmed he suffered a stroke. Doctors also discovered he suffered from deep vein thrombosis (DVT) in his left leg. DVT can occur when a blood clot forms in one or more deep veins in your legs. He was treated with blood thinners for the DVT and after a few days in the hospital, he returned home.
Three months later, Hellard suffered another stroke while celebrating his 38th wedding anniversary. The morning of the stroke, his wife noticed a sudden slurring of speech, the left side of his face drooped significantly, he complained of headaches and he was unable to lift his arms. Again, he was rushed to the emergency room where doctors confirmed he experienced another stroke but in a different part of his brain.
Unfortunately, Hellard's condition worsened, and over the next few months, he suffered four more strokes for a total of six strokes in less than a year. Each stroke was more damaging than the last, diminishing his cognitive and physical abilities and ultimately leaving the left side of his body partially paralyzed. Hellard was no longer able to perform basic day-to-day skills, including feeding himself and bathing. During this difficult time, Hellard's wife also died. Due to short-term memory loss caused by the strokes, Hellard had to be reminded daily that she had passed away.
As part of Hellard's recovery plan, he was referred to TIRR Memorial Hermann-The Woodlands for inpatient rehabilitation. While undergoing treatment, Hellard's physician, Prathap Joseph, M.D., a physical medicine and rehab specialist, referred Hellard to Sukhdeep Basra, M.D., an interventional cardiologist and structural heart disease specialist affiliated with Memorial Hermann The Woodlands Medical Center/UTHealth for consultation about the recurring strokes.
Upon examination, Dr. Basra diagnosed Hellard with a patent foramen ovale (PFO), also known as a "hole in the heart." A PFO results when a small flap-like opening between the heart's chambers does not close at birth. He also confirmed Hellard's stroke and DVT diagnoses.
"Mr. Hellard developed another DVT in his leg while on blood thinners, and had another stroke despite being on the medication," said Dr. Basra. "This alerted me there was a strong possibility that the blood clot traveled from the vein in his leg to the right side of the heart, passed through a PFO, and traveled to the brain, subsequently causing another stroke."
Dr. Basra felt Hellard would benefit from a new PFO closure procedure being offered at Memorial Hermann The Woodlands Medical Center. Utilizing the first FDA-approved closure device, the procedure requires a physician to insert a delivery catheter through a vein in the leg until it reaches the heart. The physician then advances the closure device through the delivery catheter and implants it by the hole between the right and left atriums. The device, made of two connected discs, closes like a door to cover the hole. As the body heals, a thin layer of tissue covers the device.
Prior to the procedure, Dr. Basra conducted a series of neurological and cardiovascular tests to rule out other potential causes and evaluate the suitability of the PFO for closure, including transthoracic echocardiography, transesophageal echocardiography, arrhythmia monitoring and CT angiogram of the brain and neck arteries.
After reviewing the results and consulting with other experts in the field, including Vishnu Brahmandam, M.D., a neurologist affiliated with Memorial Hermann The Woodlands Medical Center and Mischer Neurosciences, and Dr. Biswajit Kar, M.D., an interventional cardiologist affiliated with Memorial Hermann-Texas Medical Center and McGovern Medical School at UTHealth, it was determined that Hellard would benefit from the PFO closure.
A couple of weeks later, Dr. Basra performed the PFO Closure procedure on Hellard. The one-hour procedure, conducted while Hellard was awake, took place in the Catheterization Lab at Memorial Hermann The Woodlands.
"For the first time in a year, I feel relieved and hopeful that I have a chance at life without recurring strokes," said Hellard. "I'm grateful to Dr. Basra for being detailed in his research and taking a considerable amount of time to make sure this was the best procedure for me. It may not seem like much, but my restored hope makes me fight harder during rehabilitation to establish a new way of life after having six strokes. "
After the surgery, Hellard experienced other health improvements. His blood pressure went back to normal for the first time in over a year, and he no longer experienced daily fainting spells or hypertension.
"I'm pleased with Mr. Hellard's progress and the fact that he hasn't experienced another stroke," said Dr. Basra. "The PFO closure procedure can make a significant impact on the quality of life for a large percentage of patients who experience strokes due to a PFO."
Learn more about The Center for Advanced Cardiology at Memorial Hermann The Woodlands Medical Center and the hospital's commitment to high-quality stroke care.