/

/

Weight-loss patient completes The Woodlands Half Marathon with help of Houston Methodist Weight Management Center
Weight-loss patient completes The Woodlands Half Marathon with help of Houston Methodist Weight Management Center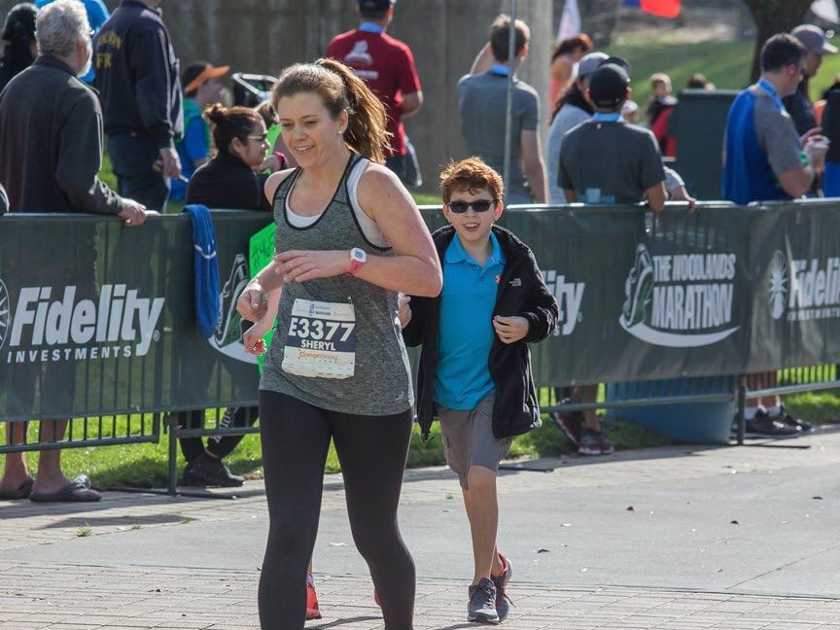 THE WOODLANDS, Texas -- In April 2017, Sheryl Barnes was part of a growing epidemic in the U.S. - obesity. The 38-year-old mother of two weighed her all-time high of 229 pounds and felt the frustration countless others have felt as they have tried to lose the extra weight.
"I had tried all the diets out there, worked with several dietitians and hired a personal trainer, but nothing worked," said Barnes.
The struggle started for Barnes nearly a decade earlier after giving birth to her second child. She continued to gain weight and, in 2011, learned she had Hashimoto's disease, an autoimmune disorder that causes the immune system to attack the thyroid. This can lead to hypothyroidism, a condition in which the thyroid does not make enough hormones for the body's needs.
The diagnosis made losing weight even harder; during the next six years, the number on the scale continued to rise. In 2017, she had made up her mind to have weight-loss surgery, until her endocrinologist introduced her to Houston Methodist Weight Management Center. For more than 30 years, the Center has led the way in helping people achieve weight loss with safe, long-term solutions. Houston Methodist opened a new location on the campus of Houston Methodist The Woodlands Hospital in November 2016.
"We are dedicated to helping our patients lose weight, keep it off and live a healthier lifestyle," said Leslie Ramirez, clinical dietitian at The Woodlands location. "Our objective is to share our knowledge and expertise by providing education, support and long-term follow-up care."
The weight management center offers rapid weight loss and moderate weight loss programs. After Barnes met Ramirez at her initial evaluation for the rapid weight loss program, they determined a healthy goal weight for Barnes is 150 pounds. This program is for people with a BMI greater than 30. It is supervised by a physician and requires participants to use meal replacement beverages and take part in weekly support group sessions.
"For the first four to five months, I drank four shakes and three quarts of water a day. It sounds hard, but if you can go two to three weeks, your body goes into ketosis and it becomes easier," said Barnes.
Barnes also credits the weekly support group and the guidance of weight-management counselor Kate Guggenheim for helping her stay on track and focused on her overall goals. Attending these beneficial meetings would not have been possible without the encouragement of her boss at the home health care center where she works in Chester, TX, who allowed her to leave work every Tuesday at 2:45 p.m. to make the hour and a half drive to The Woodlands.
"The counseling has been the greatest thing," Barnes explained. "I didn't realize the psychological factor that plays a huge part in weight loss. You have to figure out why you have certain habits so you can make changes."
Barnes did so well on the first phase of her weight loss program that she gave herself a new goal to strive toward – to run the Houston Methodist - The Woodlands Half Marathon held in March 2018. She began to train as she transitioned into the second phase of the weight-loss program.
"In the second phase she was no longer in ketosis but still on a low carb, high protein diet. It was a combination of meal replacement beverages and food," said Ramirez. "We customized the program for her as she was training for the half marathon. She completed a test which told us her resting metabolic rate and that helped us design a long-term meal plan to help maintain her weight."
In eight months, Barnes lost a total of 79 pounds reaching her goal weight of 150 pounds and is now in the long-term maintenance phase of the program.
"I feel fabulous! I have energy now. I finally get to have fun shopping and know a medium shirt is going to fit me. I went from a size 18 to a size 8. I am self-confident and a happier person now," said Barnes.
Barnes has encouraged her co-workers to try the program and they have implemented other healthy lifestyle changes at work, including planting a garden.
"I love seeing Sheryl achieve her weight loss goal and her goal to be able to run a half marathon," said Ramirez. "These accomplishments are huge, and knowing we can accomplish what we put our minds to is very encouraging!"
"I tell people – even if you've had stumbling blocks before, you can do this," said Barnes. "This program has been around a long time and it has truly saved my life."
Barnes had plenty of supporters cheering her on as she crossed the finish line of the half marathon.
For more information on Houston Methodist Weight Management Center, visit houstonmethodist.org/weight-management or call 832.667.LOSE (5673).