/

/

Meet the Montgomery County medical power couple who has delivered thousands of babies
Meet the Montgomery County medical power couple who has delivered thousands of babies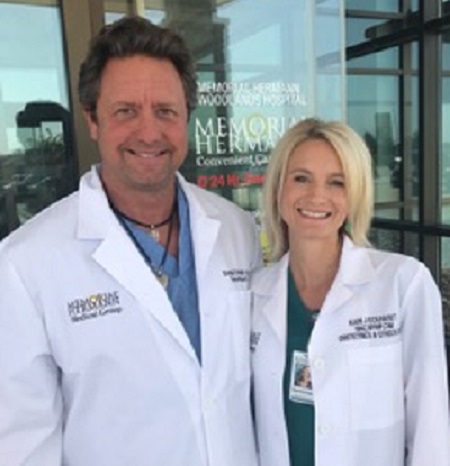 MONTGOMERY COUNTY, Texas -- For more than a decade, Dr. Donny Eckhardt and his wife, Kari Eckhardt, have been working side-by-side, bringing new lives into the world and helping thousands of women become mothers.
The Eckhardts are a well-known couple in Montgomery County, where they have practiced for many years. Dr. Eckhardt has delivered more than 5,000 babies since he started practicing medicine in the early 1990s and his wife has also assisted in bringing countless numbers of new lives into the world.
Today, the two are still working together to deliver babies and care for women and mothers-to-be in their new practice at Memorial Hermann Medical Group The Woodlands Obstetrics and Gynecology, where Dr. Eckhardt provides traditional obstetrics and gynecology services and treatment options and Kari serves as the only hospital-based midwife in The Woodlands.
Building Lasting Relationships with New Moms and Their Families
Both say they were attracted to the specialty because it gave them an opportunity to create deep connections with their patients and to play a big role in creating happy outcomes for families.
"I love what I do because I can truly develop relationships with my patients that can last a lifetime," Kari said.
"It's so rewarding," Dr. Eckhardt added. "People always remember the births of their children as the greatest days of their lives, and we get to be a part of that."
The couple first met when Kari was a labor and delivery nurse, but after they married, Kari decided she wanted to pursue a career as a certified nurse midwife. Her husband supported her all along the way, even as they juggled childcare for four children from previous marriages as well as their demanding careers.
"It wasn't always easy taking care of four children under one roof and working full-time," Kari said. "I would often study from 10 p.m. to 1 a.m., catch a few hours of sleep, and then get up at 4 a.m. to study some more. But we were determined to work together and we persevered through obstacles to make that happen."
A Unique Partnership of Caring for Moms
Dr. Eckhardt said he and his wife have a beautiful working relationship, serving as perfect complements to each other, and offering patients a unique experience where they can get a range of treatment in a family-based environment.
"People don't often fully understand the kinds of services that certified nurse midwives can offer, but to be honest, Kari is able to provide nearly all of the same services that I can other than acting as the primary surgeon on cesarean sections and hysterectomies, and she is my first assistant on those surgeries," he said. "We work in total unison and I often tell people she's my feminine side."
For Kari, she finds comfort in knowing that if one of her patients experiences a complication, that she can't manage, she is able to refer the patient to her husband while still maintaining involvement in the case under his medical guidance.
"I always joke with him that he's part midwife too," she said. "We've both taught each other a lot."
Celebrating the Moms in Your Life
"I have so much respect for mothers and all that they do," says Dr. Eckhardt. "Kari is such a strong woman and does so much, raising our kids, cooking, cleaning, organizing fundraisers – all while continuing to serve women in this community and help them on their own journeys into motherhood."
Kari embraces her role as a mother. "Being a mom is the most important job in the whole world because we're the ones who truly are able to shape the future through our kids," Kari said. "Every day is a surprise. Hug your babies."
"And don't sweat the small stuff," Dr. Eckhardt added.
Visit Memorial Hermann Everyday Well for health information, blogs and more.