Community Bank of Texas supports Montgomery County Youth Services with pledge of $7,500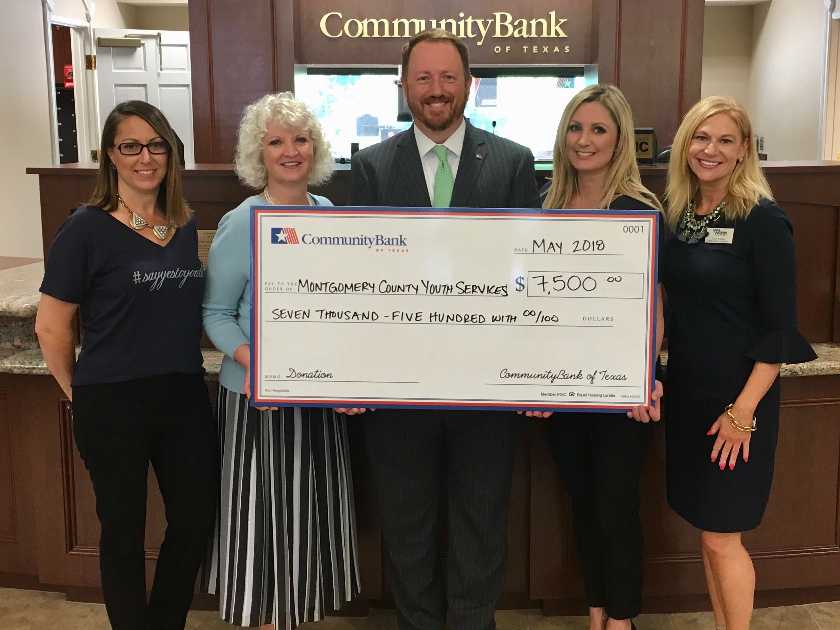 MONTGOMERY COUNTY, Texas -- CommunityBank of Texas recently donated $7,500 to Montgomery County Youth Services (MCYS) to help the organization empower youth and their families by building on their existing strengths, expanding their opportunities, and enhancing their lives.
MCYS is organized into two primary, interrelated entities to facilitate the effective delivery of needed services: youth and family services to provide short-term crisis intervention and mental health services for youth up to age 18; and shelter services which provides youth in crisis with a safe, healthy, and nurturing environment. The agency's six locations provide direct and indirect services to thousands of youth and families annually.
As part of the bank's overall charitable giving and community engagement programs, Jason D. Sirkel, CommunityBank of Texas Executive Vice President, presented the check to Katrina Savage, YES to YOUTH Chair, Dannette Suding, MCYS CEO, Laura Everson, YES to YOUTH Chair, and Erin F. Freitag, YES to YOUTH Donor Associate.
Sirkel stated he's proud the bank supports local organizations such as MCYS. "Providing this financial donation to an organization such as Montgomery County Youth Services is just one way we support our communities," said Sirkel. "It's our 'Here to Serve' message in a nutshell, which is all about reinvesting in our communities and the places we call home."