/

/

US Congressman Kevin Brady Receives 'True Blue' Award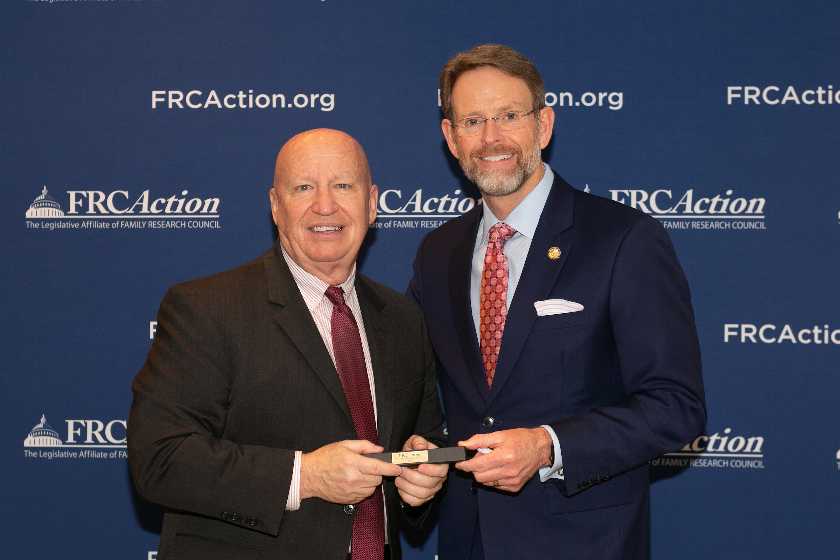 WASHINGTON, D.C.- Yesterday, Congressman Kevin Brady (TX-08) was presented with the "True Blue" award from the Family Research Council for consistently supporting pro-life and pro-family legislation.

'Fighting for pro-life and pro-family legislation has always been a top priority of mine,'stated Brady. "I'm honored to be recognized by the Family Research Council. Already in the 116th Congress, I have sponsored multiple pro-life and pro-family bills, including the Born Alive Survivors Protection Act. These are topics incredibly close to my heart, and I will always be an advocate for defending faith, family, and freedom."

'We thank Rep. Brady for voting to defend and advance faith, family, and freedom," said Family Research Council Action President Tony Perkin. "As a 'True Blue Member' he voted 100% on FRC Action's Scorecard including to protect babies who are born alive after a failed abortion, help hard-working families set aside funds for an unborn child's future education, and defund the individual mandate in D.C.Rep. Brady deserves praise for his unwavering commitment to stand for life, family, marriage, and religious liberty. Texans should be encouraged to know that they have a Member of Congress such as Rep. Brady who has come alongside other members and our president to begin the work of rebuilding our nation, and protecting the very values that made America great."

The "True Blue" award is given to lawmakers who show leadership in defense of faith, family, and freedom. Based on the Family Research Council Action's 2018 Voter Scorecard, the award highlights those in congress who are committed to voting in favor of a number of religious liberty and pro-life issues, as well as other issues affecting millions of families across our nation.

Founded in 1983, Family Research Council is a nonprofit research and educational organization dedicated to articulating and advancing a family-centered philosophy of public life. In addition to providing policy research and analysis for the legislative, executive, and judicial branches of the federal government, FRC seeks to inform the news media, the academic community, business leaders, and the general public about family issues that affect the nation from a biblical worldview.