/

/

Lone Star College welcomes Bellevue University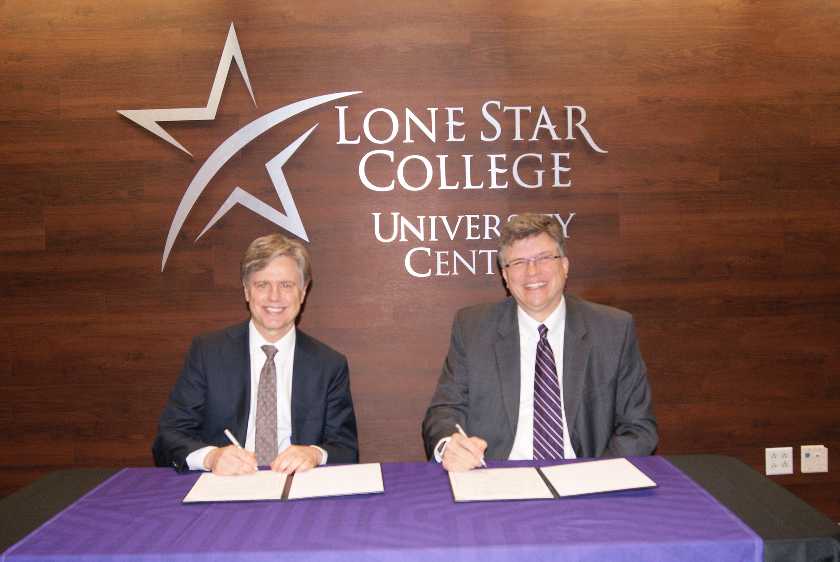 HOUSTON, Texas – Lone Star College is pleased to welcome Bellevue University to the LSC-University Center at The Woodlands. Bellevue University will provide on-site advisers for LSC students wishing to transfer.

"We are happy to have Bellevue University here," said Dr. Dwight Smith III, LSC vice chancellor Student Success. "Lone Star College is committed to helping our students transfer and continue their education to earn a 4-year degree."

LSC students who have earned their associate degree can meet with Bellevue University advisers on how to enroll for online classes. Students can continue to utilize the resources of LSC-University Center at The Woodlands and earn a bachelor's degree from Bellevue University while still living in Houston.

"We appreciate the partnership with Lone Star College," said James Grotrian, Bellevue University executive vice president Operations. "This is more than just transferring, this about helping students succeed."

Founded in 1966, Bellevue University is a nonprofit, open access institution with more than 50,000 graduates worldwide. Routinely ranked among the nation's top military-friendly institutions, the university serves students at its main campus in Bellevue, Nebraska, outside of Omaha.

"We look to institutions like Bellevue University to help all students," said Dr. Alton Smith, LSC Board of Trustees chair. "It's partnerships like these that help keep our nation strong."

In addition to Bellevue University, LSC-University Center at The Woodlands also works with Ferris State University, Lamar University, Sam Houston State University, Springfield College, Stephen F. Austin University and the University of St. Thomas.

"Lone Star College has opened so many doors for me," said Ann Pavliska, LSC graduate who now attends Stephen F. Austin University at the LSC-University Center at The Woodlands during a luncheon following the ceremony. "I have received so many resources and plan to earn my bachelor's and master's degrees all from this campus."

Representing the LSC Board of Trustees were Mike Sullivan and David A. Vogt. Also in attendance were Helen Clougherty, LSC vice chancellor, Chief of Staff, Board Liaison; Dr. Quentin A. Wright, LSC special assistant to the chancellor; Dr. Rebecca L. Riley, LSC-Montgomery president; and Dr. Lee Ann Nutt, LSC-Tomball president.

"Lone Star College gave me the opportunity to write my story," said Selena Perez at the luncheon. Perez, a first-generation college student, began at Lone Star College and is now attending the University of Houston-Downtown Northwest at LSC-University Center at University Park. "I love the partnership between these institutions," said Perez.

Lone Star College offers high-quality, low-cost academic transfer and career training education to 99,000 students each semester. LSC is training tomorrow's workforce today and redefining the community college experience to support student success. Stephen C. Head, Ph.D., serves as chancellor of LSC, the largest institution of higher education in the Houston area with an annual economic impact of nearly $3 billion. LSC consists of six colleges, 10 centers, two university centers, Lone Star Corporate College and LSC-Online. To learn more, visit LoneStar.edu.