/

/

Top 5 Things to Do This Week in The Woodlands March 18, 2019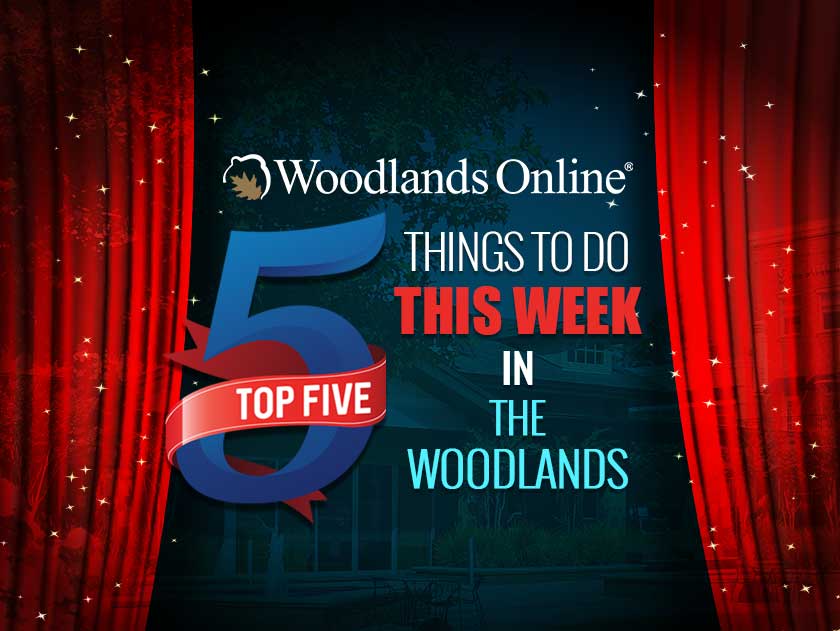 THE WOODLANDS, TX – The kids are back in school! Time for you to relax, release some energy, or find something fun to do as a family. We've got all of this and more in this week's Top 5 Things to Do in The Woodlands.

Tuesday, March 19 is National Let's Laugh Day. They say laughter is the best medicine, so if you can combine it with exercise, it's a win-win. The Westin in The Woodlands is hosting a National Let's Laugh Day Run from 6 a.m. – 7 a.m. Concierge Sandra will lead you on a guided course along the Waterway. Options include a 2-mile walk or 5k run. Games and prizes await you at the finish line. Register here.


Soak in some tunes while sipping cocktails 5 p.m. – 8 p.m. Wednesday, March 20 at Robard's Steakhouse. Live music on the patio every Wednesday in March features the sounds of local musician Ramon Torres.

Fashion, food and fun, all for a good cause. Mercedes-Benz of The Woodlands is hosting 'Fashion for Food' 6 p.m. – 9 p.m. Thursday, March 21, and tickets are still available. The event benefits the Montgomery County Food Bank. Live music and a live auction. Come dressed to impress – or leave dressed to impress after shopping your heart out. Click here for tickets and more details.


It's time to prepare for summer and that includes possible summer jobs. The Woodlands Family YMCA at Shadowbend is offering a free lifeguard training class Friday, March 22 through Monday, March 25. The class gives participants the skills and knowledge needed to become certified life guards. Complete attendance is required and all e-learnings must be completed before the in-class portion of training. Minimum Requirement: 16 years of age, swim 500 yards nonstop, and two minutes treading water. Click here for more information.


Litterbugs be gone! If only, but that's not exactly the case, which is why The Woodlands Township is hosting a community cleanup 8 a.m. – 1 p.m. Saturday, March 23. The 9th Annual Earth Day Greenup clears clutter from streets, pathways and streams. Meet your group at a local park for check-in and supply pickup, then make your way to the cleanup site. After, head to Northshore Park for pizza, live music and games. For more information, call 281-210-3800 or visit www.thewoodlandstownship-tx.gov/greenup.