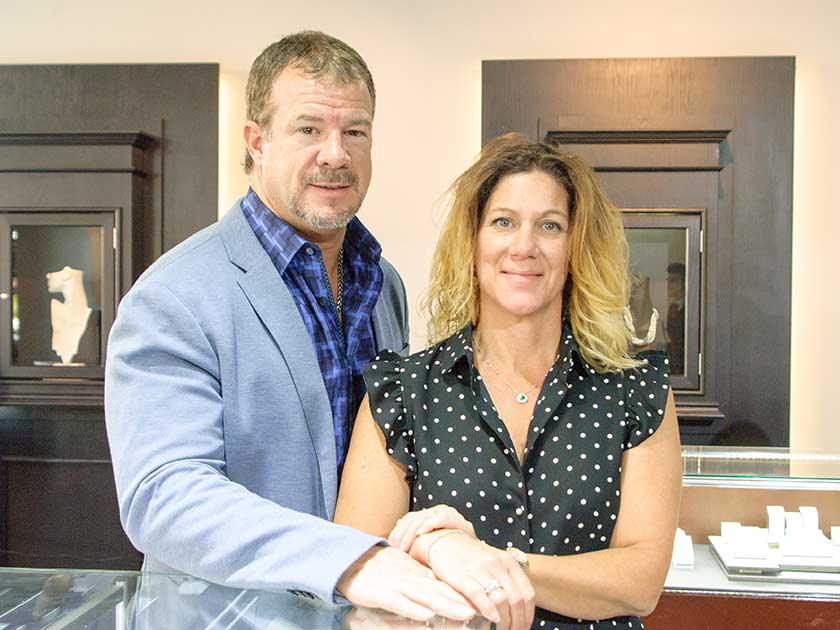 THE WOODLANDS, TX -- March 31 marks the first anniversary of Hughes Landing becoming home to Cassio Creations. Hughes Landing sought to bring a jeweler into the shopping center. The talent and skill found within Cassio Creations was a perfect match.
Cassio Creations using diamonds and more in their jewelry design
Cassio Creations
, owned by Craig and Michelle Cassio, has bejeweled The Woodlands area and beyond since 2001. Since their business is growing, they needed a new home. When the opportunity arose last year to relocate onto beautiful Hughes Landing Boulevard, they jumped at the chance, bringing with them the sparkle and shine of their jewelry design.
While studying to be an architect at the age of 21, Craig was working at a mall selling sunglasses. Finding himself in need of a wedding ring, he worked up a design. Then he enlisted the help of a jeweler nearby in the mall to produce the ring for Michelle. The jeweler recognized Craig's talent and recruited him to work in his store. Craig's journey shifted from becoming an architect and into the world of jewelry.
Years later, Craig and Michelle now both work together running the family jewelry business. They have two sons who attended Oak Ridge High School. Michelle recently spent seven years serving Oak Ridge North on the Planning and Zoning Commission and City Council. Craig has coached youth baseball for many years. They ride bicycles and walk their dogs, two Golden Retrievers and one German Shepherd, along the waterway. Amongst all these pursuits, their real passion is jewelry. Traveling to many locations in search of exquisite gems and jewelry to bring back to their store is an exciting part of their life.
Take one step into the store and you'll be surrounded by gems and precious metals carefully crafted into delicate, wearable pieces of art. What sets Cassio Creations apart is, rather than just selling jewelry, they design and make it.
"We make our own designs to sell to the customer, and we take customers old jewelry and make new modern designs out of their materials (gold and diamonds). We have a complete factory at our new location," Craig said. "A little less than half of our sales come from jewelry that is designed and manufactured right here in our store. Jewelry repair is also a big part of our business. We have a very extensive 'shop' in our store with several goldsmiths and watchmakers. We do everything right here in the store and do not send out our clients' jewelry or watches."
Many people cherish vintage pieces because of the sentimental value they hold but are no longer pleased with the aesthetics. Cassio Creations transforms these beloved treasures into fresh and stunning styles with all the sentiment still attached.
Customers can feel confident about being in good hands at Cassio Creations. Craig, Michelle and six other employees deliver outstanding expertise acquired through years of industry experience. "Prior to our first retail storefront, Cassio Creations was a wholesale company that serviced many of the other jewelry stores in this community as well as across Houston and other cities in the state of Texas. Even though our retail store opened in 2001, we were already doing jewelry repair and design for this community for several years prior to opening a showroom. Our jewelers, watchmakers and designers have a combined experience of close to 100 years," said Craig.
Engage the kind, well-informed staff in conversation about jewelry, gemstones and minerals; you'll probably learn something new. For instance, did you know that sapphires come in many colors? The traditional blue stone is just one of the many looks a sapphire can have. "Sapphire and ruby are the same mineral, corundum. The ruby has aluminum in the corundum, and it gives them a red color. Any other color of corundum is called a sapphire," Craig said, revealing that sapphires can be pink, green, purple, blue or other colors.
Fine jewelry is precious and valuable, a lasting investment if cared for properly. The Cassios offer a few tips on jewelry care. "Do not wear your fine jewelry to the gym or in the swimming pool. Have your jewelry inspected a few times a year to prevent any expensive diamond or gemstone loss and costly repairs," Craig advised. "Chlorine is bad for gold … the gold jewelry gets eaten up by chlorine … Corals, pearls, turquoise, other gemstones that are organic: that can be damaged in a swimming pool also." The jeweler explained chlorine causes a purplish, brown hue to form on jewelry. Don't despair if this discoloration has affected your accessories. It can be removed by Cassio Creations staff.
Another word of caution comes when researching where to buy your jewels. "It is very easy to make a piece of jewelry look good online only to receive it and see a totally different quality. We have been witness to several occasions where a consumer purchased something online and was told it was of a certain quality, and it was not what was promised," Craig warns. He encourages all to shop local to see the quality in person before you purchase.
The Cassio family has formed many close ties within the community and has received much support. In return, the Cassios stay active in giving back. "We support the local community as much as possible by donating our time and services to local charities," Craig said, "just to name a few: Interfaith, All Ears, Hope for Youth, Mighty Oaks Warriors, CASA and many of the local schools."
Diamonds may not truly be a girl's best friend, but they certainly are in demand. Diamonds compose the biggest category of sales in the store. Sapphires continue to be a strong runner-up in the world of gemstones. Christmas is the busiest season for jewelry sales at Cassio, followed by Valentine's Day and the bridal season. Cassio Creations showcases the latest trends and offers some items at a clearance price as well as consignment services for select quality jewelry and watches. So any time is a good time to stop by.
After a brief visit to
Cassio Creations
, you can leave with a bit of extra shine to your jewelry. As you shop, the staff is happy to give your ring a good cleaning. "We would like to invite all Woodlands residents to our store and visit with us. We always do free jewelry cleaning and inspection. Let us check your prongs and diamonds, and clean your jewelry, and make it sparkle like new," Craig said.