The Woodlands Family YMCA Kids Triathlon 2019 Presented by Texas Children's Hospital The Woodlands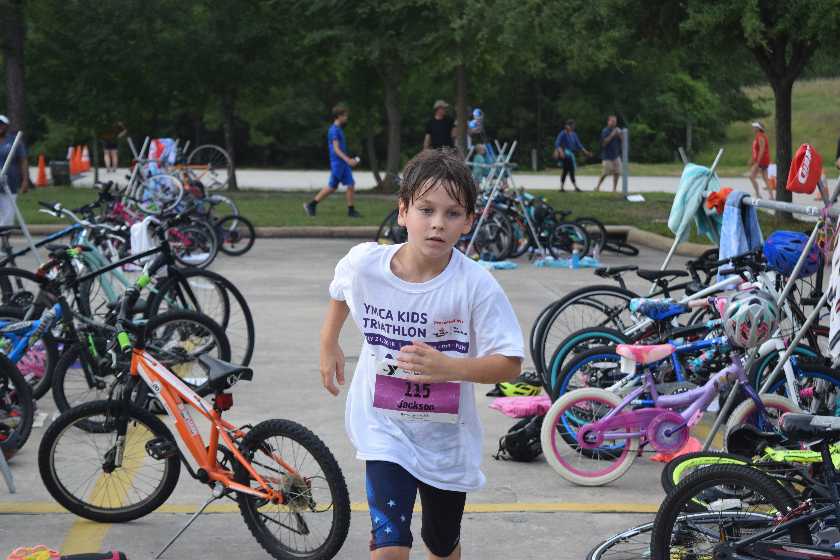 THE WOODLANDS, TX - Registration is now open for annual YMCA Kids Triathlon on Saturday, July 20, 7:30am at the Branch Crossing location. Children, ages 6 – 12 are eligible to register and experience the fun and excitement of triathlon. It's a morning of friendly competition and physical activity that can lead to a lifetime of fitness. The event is designed for all levels. Previous triathlon experience is not required.

Presented by Texas Children's Hospital The Woodlands, the Kids Triathlon benefits the YMCA Annual Campaign, which ensures everyone, regardless of age, income or background has the opportunity to learn, grow and thrive at the Y. Proceeds from event will Help US Multiply our Impact in 2019.

Swim+Bike+Run = FUN! Triathlon is an exciting sport for young children because it involves three activities that
every child enjoys – swimming, cycling and running. Triathlon is an individual event with segments running consecutively until all three elements are completed.

Distances will vary per age group. Children ages 6 – 9 years will swim 50 meters, cycle for 1 mile and run 1?4
mile. Children, ages 10 – 12 will swim 100 meters, cycle for 2 miles and run 1?2 mile. All participants must
provide their own bike. Training wheels are not allowed. Helmets must be worn for the bike course and shoes
must be worn for the bike and run courses.

The 2019 event will feature chip timingfor faster and more accurate finish line results. The event features 7
age divisions: 6,7, 8, 9, 10, 11 and 12 years. Boys and girls will compete separately in their age groups. The
top 3 finishers, male and female, in each age group will receive a special award. All participants will receive a
goodie bag, t-shirt, finisher medal and complimentary breakfast at the conclusion of their race.

Race day check in begins at 5:30am at Branch Crossing Y, located at 8100 Ashlane Way in The Woodlands. All
participants are encouraged to arrive no later than 6:30am to park, unload equipment, check in, ready your
transition area and review the course. At check in, triathletes will receive instructions, course map and will be
body marked. Please remember, parents are not allowed in transition area once the race begins.

Postrace activities will include refreshments, face art, balloon art, mascots, music, games, photos booth, awards ceremony and sponsor booths. Concessions available to purchase.

Thank you to our generous sponsors: Texas Children's Hospital The Woodlands, SelecTRI, Walking Tots,
CareNow Urgent Care, Kelsey-Seybold, Two Men & A Truck, and The Woodlands Township.

For more information and on line registration visit ymcahouston.org/ymca-kids-tri. Early Bird registration ends
June 30. Registration fees increase on July 1. Registration closes at Noon on July 1 Noon on July 1 Noon on July 17. Sponsor and volunteer opportunities still available. For more information contact Roxanne Davis at 281-367-9622 ext 230.