/

/

Go Red for Women: Working toward healthy hearts in our community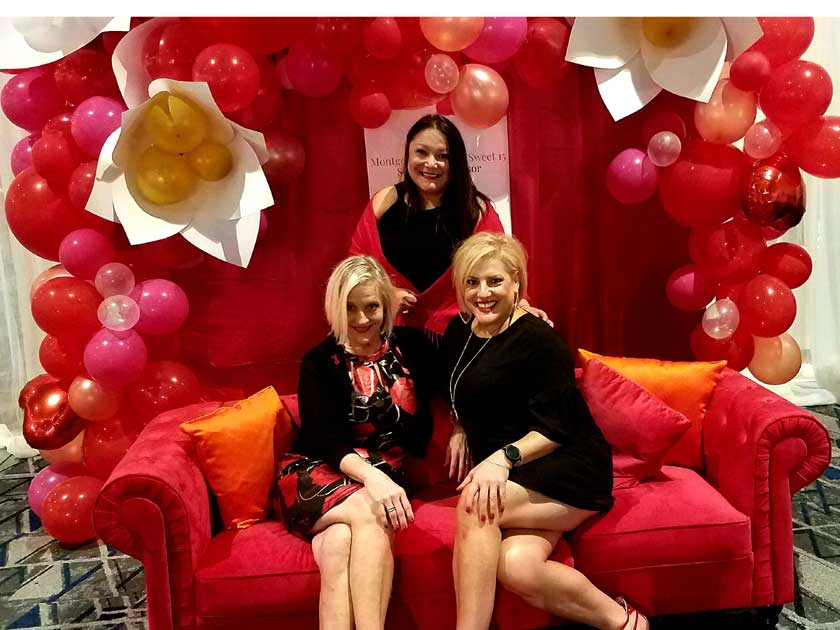 THE WOODLANDS, TX -- Guests of The Woodlands Waterway Marriott Hotel marveled at the masses of red-adorned women flocking into the convention center on May 23. The Montgomery County Go Red for Women Sweet 15 Celebration took a different format during this year's event.

The celebration abandoned the traditional luncheon in favor of an interactive, yet elegant, health fair experience. Tasty bites, from beef tenderloin and crab cakes to cheeses and corn fritters, quieted any ravenous appetites.

The American Heart Association not only brought in experts to educate but also delighted attendees with the appearance of "Dancing With the Stars" icon Valentin Chmerkovskiy. Chmerkovskiy posed with attendees in photos and took to the dance floor, leading a group dance. Choosing to take advantage of this once-in-a-lifetime opportunity, women (and a few men) quickly converged onto the dance floor to join in on this heart-healthy activity. Mark Sasnovski, Lizl Sasnovski and Eric Botello of Dance With Me The Woodlands performed a salsa and a jive. A DJ kept the upbeat music humming for the first half of the event. Strengthening the heart through exercise can be fun, as the dancing beautifully demonstrated.

Caring for the heart includes nutrition. Cooking demonstrations occurred at intervals throughout the health fair. Chi St. Luke's Health booth, "Eat well," shared general heart-healthy eating and nutrition tips. A handout available encouraged people to incorporate the Mediterranean diet, one rich in healthy fats, into their eating habits.

Houston Methodist Hospital The Woodlands set up a "Know Your Numbers" booth offering complimentary blood pressure checks. They raised awareness for stroke and cardiology programs in the community.

A fastball net, near Memorial Hermann Hospital's booth, piqued curiosity. Upon closer examination, it was part of their 'Interactive Stroke Empathy Experience.' Pitching with your non-dominant hand represents what many recovering from a stroke experience; sometimes they must relearn everything. Memorial Hermann The Woodlands educated on the theme "Spot a Stroke F.A.S.T." to aid in identifying stroke symptoms and getting help quickly.

The "Stayin' Alive" CPR station was manned by The Woodlands Fire Department firemen Josh Thomas, Rocky Maglio, Chris Berg and Chris Pointinger. These everyday heroes gave life-saving CPR presentations.

With all the excitement of the "Lipstick Reader" station, more and more women formed a seemingly unending line. Each wanted their chance to have a consultation with Mary Jane Bradshaw, a graphologist from J&D Entertainment. Ladies handed over a card with their personal lipstick print alongside their signature to Bradshaw. The lipstick print, while adding a touch of feminine charm, did little in contributing to the results. After a handwriting analysis, Bradshaw shared insights into the personality and strengths of the women who participated, and the consensus indicated that Bradshaw was astonishingly accurate.

All of the activity happening during the first half of the event coincided with a live and silent auction raising funds for the American Heart Association. As these concluded, attendees gathered in the adjoining room to hear from several speakers.

Master of ceremonies, Cristina Kooker, introduced a returning guest speaker, Anna King. King spoke at a Go Red for Women event years prior, before she received her heart transplant. The King family received Anna's diagnosis of dilated cardiomyopathy when she was just 12 years old. At the time, they had recently moved to The Woodlands. The wait for a new heart was long for King, over 800 days. At the age of 14, King was given the gift of a healthy heart due to the kindness of a father who had tragically lost his daughter. He agreed to the organ donation. Now, at the age of 19, King stepped onto the stage to speak as a healthy and active college student, full of future aspirations. Sharing her story and photos of her journey moved some to tears. A healthy heart should not be taken for granted, as King's experience testifies.

Connie Watt, the proud mother of not one but three professional athletes, including Houston Texans' J.J. Watt, captured the attention of the audience. Watt is one of the founders and vice president for the Justin J. Watt Foundation. The mission of this organization is to provide after-school opportunities for middle-school aged children to get involved in athletics and learn important character traits. Watt is a family-focused and active woman.

Heart disease presented itself in Watt's family and is an issue of importance for her. Watt's petite grandmother developed heart problems, which taught the lesson that a good weight doesn't exempt one from heart disease. During her speech, Watt encouraged all to adopt an attainable, heart-healthy lifestyle. Watt described some of her tips to maintaining healthy habits, from doing leg lifts while applying makeup to using salad plates for portion control.

A balanced and proactive approach to health and examining your lifestyle as a whole to find room for improvement will go a long way in achieving the optimal health and longevity of your heart. The Montgomery County Go Red for Women Sweet 15 Celebration gave the community tools, education, and motivation to make a difference in both their lives and the lives of others. Be on the lookout for next year's event.