/

/

Houston Methodist The Woodlands Hospital announces $240 million expansion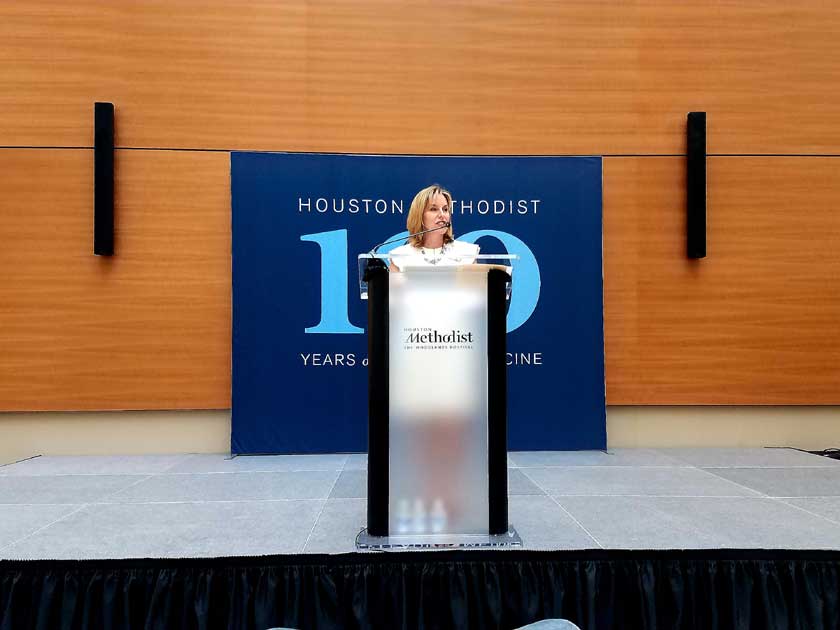 THE WOODLANDS, TX -- June 26 marks the second anniversary of Houston Methodist The Woodlands as a part of our community. Tonight, Debra Sukin, CEO of Houston Methodist The Woodlands, announced grand plans for a $240 million expansion in response to growing community needs.

The phase 2 construction will add another patient care tower and grow many aspects of the hospital's services, including an expansion to the emergency center, an enhanced neurodiagnostic center, another 100 beds focused on medical, surgical and women's areas, 10 more operating rooms (bringing the total up to 25), and expansion of both the heart and endoscopy centers. Tremendous increase of this proportion means adding more staff. Houston Methodist prides itself on recruiting the brightest and best physicians and staff.

The monumental expansion project comes at an exciting time for Houston Methodist. The hospital is celebrating its 100 years of healthcare beginning in 1919. An interactive, mobile wall, unveiled today, shares Houston Methodist's rich history of innovation throughout decades of serving the Houston community and patients around the globe. The third floor of the hospital houses this touch-screen wall in the Woodforest Bank Sky Plaza. Community members can visit this exhibit during the next six weeks before it travels to another Houston Methodist hospital. After the touring exhibition of the wall is complete, its permanent home will be joining a larger wall in the Texas Medical Center.

"For any company to be in existence for 100 years … is a really big deal," Sukin said. "And so as we approach our second birthday, we set out on this journey to carry on our hundred-year commitment to leading medicine in Houston."

Having opened their doors only two years ago, Houston Methodist The Woodlands made this expansion announcement sooner than some had anticipated. "We are just being responsive to the demand," Sukin said. "It was always a vision that would be there, and we are accelerating the timeline, all based on the demand."

Sukin stated the hospital plans to break ground and host a ribbon cutting in late September. The build-out process on such a massive undertaking is likely to take 18- 24months. The community eagerly awaits the completion of Houston Methodist The Woodlands Hospital Phase 2 expansion. Greater availability to impeccable healthcare services is on the horizon.