/

/

Top 5 Things to Do This Week in The Woodlands - July 8, 2019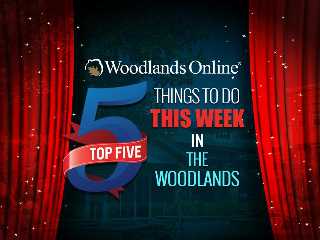 THE WOODLANDS, TX – We hope you and your family had a great Fourth of July holiday. The temperatures are forecast to really heat up this week (into the upper 90s), so here's our picks of how to stay cool this week.

Does your child love to build things? The Woodlands Township is hosting a STEM & Minecraft Full Day Camp from July 8 – July 12. The camp runs from 9:00 AM to 4:00 PM each day. Your child will enjoy a challenge-based day of building gear cars, gondolas, merry-go-rounds and scissor lifts. They'll also be able to build motorized minecarts, ghasts and creepers from the Minecraft universe. This event is for ages 7 – 12 years old and is held at the Bear Branch Recreation Center. See the event link for registration information. EVENT LINK

Let's hula! Houston Hula Academy invites you to come and learn the hula. Classes are held every Tuesday and cost $15 per hour or $45 for two days. There is a one time registration fee of $65 per student. The class will provide you with a Pahu Skirt for ladies or a Lava-Lava for the men and you'll learn the hula from many different locations around the world. EVENT LINK

On July 10 from 10:00 AM to 2:00 PM, America's ER Medical Center is offering a FREE CPR class. The difference between being CPR & First Aid Certified vs. not could cost a life. Classes fill up quickly, so register today. This class is for HEARTSAVER CPR Certification only. EVENT LINK

Dosey Doe – The Big Barn is proud to welcome Escape-Journey Tribute Band on July 11. You'll receive the Essential Journey Experience, a tribute to the arena rock supergroup. The tribute band has been packing venues since 2006 with fans who love Journey's timeless music. The show begins at 8:30 PM. Doors open at 6:30 PM and dinner is served from 6:30 PM to 8:30 PM. Normal seat pricing is $20.00 and obstructed seats are $15.00. EVENT LINK

Parents, need a night out? Obstacle Warrior Kids The Woodlands would be happy to help. They offer Parent's Night Outs every Friday night, from 6:00 PM to 10:00 PM for ages 4 and up. Obstacle Warrior Kids will provide dinner and drinks. You can register online, over the phone or in-person. EVENT LINK

For many more fun events, please visit the Woodlands Online Events Calendar.