/

/

Heat wave to bake southern Plains, Texas into early next week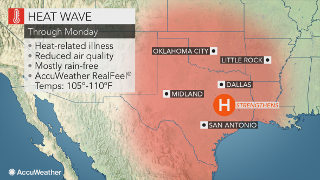 AccuWeather Global Weather Center - For residents in the southern Plains and Texas who have not had to deal with any spells of extreme heat so far this summer, a change in the weather pattern will bring about the season's first heat wave.

A ridge of high pressure will drift eastward and position itself over Texas from the middle of this week into early next week, allowing the hot air that has been baking the western United States to spill farther east into the southern Plains.

Dallas and San Antonio have only had one day with 100-degree Fahrenheit high temperatures so far this year. It is more typical for Dallas to have hit the century mark at least eight or nine times by early August.

Both of these cities will make up at least some of this ground through early next week, with high temperatures forecast to reach or exceed the 100-degree mark each day through Monday.

The high temperature in Houston has not hit the triple digits this year, but that could change this weekend.

"Temperatures will rise slightly through the weekend in the Houston area, with highs peaking in the upper 90s to near 100 with AccuWeather RealFeel® Temperatures between 105-110 each afternoon," AccuWeather Meteorologist Isaac Longley said.

Similar RealFeel temperatures can be expected throughout the entirety of the state through early next week and on at least several days in much of Oklahoma and southern Kansas.

"There will be little to no change in the overall weather pattern through early next week, so dry, hot and generally sunny weather will prevail," Longley added.

The combination of scorching sunshine, moderately high humidity and temperatures some 5-10 degrees above normal will increase the risk for heat-related illness for those spending prolonged periods of time outdoors.

Be sure to drink plenty of non-alcoholic beverages and take frequent breaks in the shade or an air-conditioned building to lessen these risks.

In addition, the stagnant weather pattern will result in poor air quality from late this week through the weekend, especially in larger cities.

Young children, the elderly and those with respiratory ailments should limit time outdoors during the heat wave as these groups are most prone to being negatively impacted by high concentrations of pollutants in the air.

Cooling costs, which have been relatively low in the southern Plains this summer, will increase into early next week. Residents will be forced to crank up the air-conditioning units and fans, especially since low temperatures in the 70s and 80s will provide little relief from the blistering daytime heat.

By next Tuesday or Wednesday, the high pressure will shift back into the Four Corners region, allowing thunderstorms that erupt in the central Plains to dive southward and put an end to the heat wave in the southern Plains.

The heat relief may not last long as there are indications that more triple-digit temperatures may be in store next weekend or during the following week.