/

/

Adopt a Rubber Duck and Help a Neighbor in Need!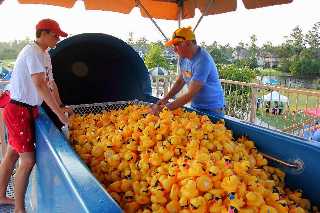 CONROE, TX - Community Assistance Center is asking for local residents to make a difference to our families that need a temporary hand up by purchasing an "adopted" duck for the 12th Annual Duck Race.

CAC will once again host this fun, family friendly event on Saturday, August 24th from 6:30-8:30pm at Rob Fleming Aquatic Center. The community is invited to join us to cheer on 5,000 yellow rubber ducks as they race around the lazy river after dropping in a wild splash from the second story slide. Families and individuals of all ages can enjoy a splashin' great time with swimming, activities and of course- the DUCK RACE! Watch as the ducks swim around the pool and then enter a special duck race trap to finish the race one by one to get the "ducks in a row". Each $5 donation to "adopt" a duck makes a difference in the lives of those who are struggling to provide basic needs for their families. Grand prize is a $1,000 gift card with 9 other great prizes including an Apple TV, a Nike Apple watch, sterling silver diamond stud earrings and a "Last Duck to Finish" prize.

Ducks can be adopted at www.DuckRace.com/TheWoodlands. A single duck is $5, a Quack Pack is $25 for 6 ducks, a Flock of Ducks can be purchased for $50 and The Big Splash offers 28 ducks for $100 bucks. Additional Duck Race event information is available at www.cac-mctx.org/event/duck-race/ . Contact Kathy Rifaat at kathy@cac-mctx.org or 936-494-4412 for sponsorship information or to create a new duck adoption team.

Adopted parents do not keep the ducks. After you adopt your duck, Community Assistance Center makes every effort to train, coach, and cheer him/her down the home stretch for Race Day with you. After the race, all of the ducks are packed up and sent off to their next race somewhere in the U.S. 

How do you know which is your adopted duck? Do I need a number or ticket to claim it?

Every Race Duck adoption, whether done online, mailed, sponsored by a business or purchased at the Duck Race event is entered into our E-Quack database- (a third-party event organizer). Next to your name in the database is the number of ducks you have adopted. The tag range is electronically sequenced and then shuffled by E-Quack. E-Quack automatically assigns the number of ducks you have adopted next to Tag Numbers. So, if you adopted 5 ducks, your name will appear next to 5 different tag numbers. 

CAC is thrilled to have the generous support from event sponsors! Presented by Praxair, Inc, additional sponsors include Buckalew Chevrolet, Entergy Texas, Waste Connections, Wiesner Buick GMC, Consolidated Communications, First Financial Bank, Kevin Brady for Congress, Michel Family, Quick Quack Car Wash, Woodforest National Bank, Braintek, Carr, Riggs and Ingram, LLC, IcePackStore.com, James and Janet Stilwell, Woody and Debbie McOmber, Scott and Kim Perry, Rinkers Boat World at Lakeshore, Topgolf, Big Frog Custom T-Shirts and More of The Woodlands, Chick fil A Alden Bridge, Kroger, Silver Rock Productions, Signs, Etc., Taylorized PR, Tikiz Shaved Ice & Ice Cream, The Woodands Township and The Young Learners.

Proceeds from the Duck Race will support Community Assistance Center (CAC) programs which provide immediate basic needs assistance with food, clothing, utilities, rent/mortgage payments as well as long term case management, providing support services and resources to promote self-sufficiency for those CAC serves. Additionally, CAC offers disaster recovery assistance, ID restoration ministry, education classes, homeless care kits, back to school assistance and a summer feeding program for children. CAC honors and restores the dignity of individuals and families, providing opportunities to attain greater levels of responsibility and financial independence by delivering assistance and life lasting strategic solutions.

"Like you, we believe in the opportunity for a bright future for families of Montgomery County. The Duck Race is such a fun way to give back to our community. When you ADOPT A RACE DUCK our neighbors struggling through times of financial crisis receive the help they need to return to self-sufficiency. Join CAC in strengthening Montgomery County one neighbor at a time!", said Kathy Rifaat, Director of Development and Duck Race Coordinator.