/

/

World-renowned author Stephanie Land keynotes a memorable 2002 CAC Legacy Luncheon
World-renowned author Stephanie Land keynotes a memorable 2002 CAC Legacy Luncheon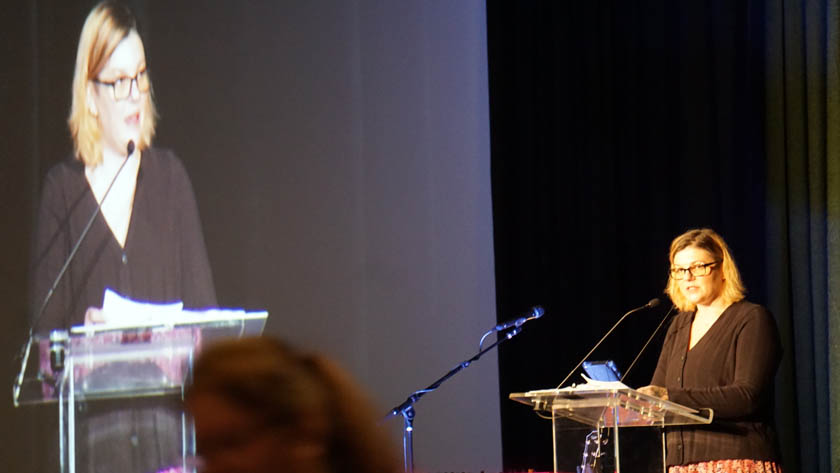 THE WOODLANDS, TX – The Community Assistance Center recently held its annual Legacy Luncheon, and this year was a smash success by any standard. Taking place at the grand ballroom in The Woodlands Waterway Marriott, hundreds of attendees came to show their support for the nonprofit social services organization that has proudly served Montgomery County since 1981.
Author of 'Maid' highlights a day of education, entertainment, and awards
The keynote speaker for the luncheon was Stephanie Land, author of bestselling debut memoir
Maid: Hard Work, Low Pay, and a Mother's Will to Survive
. The book is a recounting of Land's harrowing saga as a single mom navigating the poverty trap. Her unflinching and inspiring testimony exposes the physical, economic, and social brutality that domestic workers face, all while radiating a parent's hope and resilience.
Prior to the keynote address, a large silent auction was presented to bidders who arrived early and were treated to mimosas to help their decision-making skills for this fundraising event. While the several hundred attendees were treated to fine dining, newly appointed CAC president and CEO Jennifer Huffine greeted the crowd and introduced Congressman Kevin Brady. Then the organization recognized the 2022 Legacy Award Recipients.
The Distinguished Service Award was presented to Mike and Julie Medved for their unwavering devotion to working the CAC Food Pantry and Unique Resale shop. Keep Us Fed Montgomery County was presented with the Community Partner Award, and The Woodlands Methodist Church was named this year's Faith Partner. The esteemed Legacy Award was presented to Scott Perry, the immediate past president of CAC. Huffine then presented Congressman Brady with a special recognition, then Ms. Land took the podium for her address, discussing the heartrending challenges as raise her and her daughter out of poverty, and the pitfalls that came before and after success was achieved.
CAC is a source of hope for Montgomery County residents experiencing financial crisis in basic needs of housing, utilities, food and clothing. Strengthened through collaboration with community and faith partners, they honor and restore the dignity of individuals and families to attain greater levels of responsibility and financial independence, by delivering assistance and life lasting strategic solutions. Learn more about them at
www.cac-mctx.org
.