/

/

Montgomery County Meals on Wheels Great Pumpkin Shoot Aiming to Feed Seniors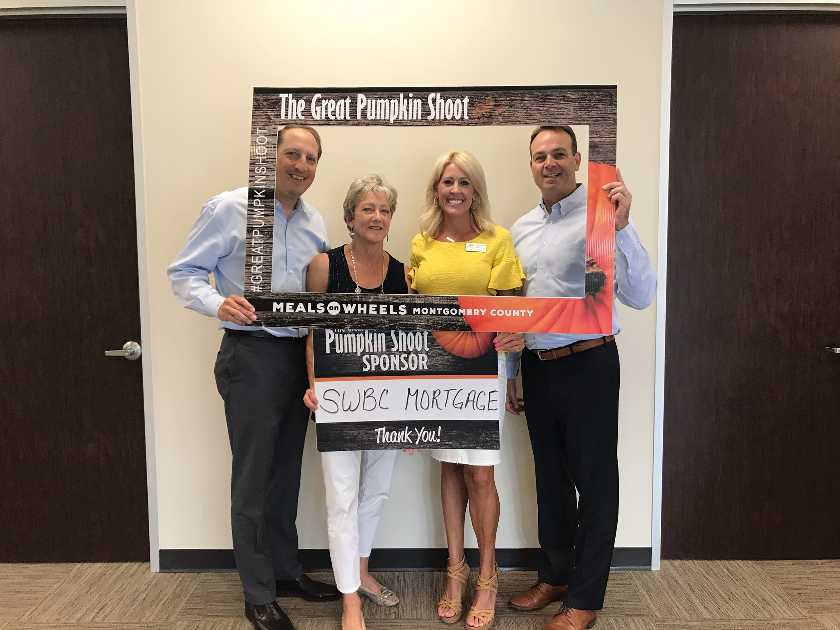 CONROE, TX – Meals on Wheels Montgomery County (MOWMC) will hold their fourth annual "The Great Pumpkin Shoot – Aiming To Feed Seniors" sporting clays tournament on October 25, 2019 at the Blackwood Gun Club in Conroe, TX, to benefit the homebound elderly of Montgomery County.

Meals on Wheels Montgomery County is pleased to announce SWBC Mortgage has returned as the presenting sponsor for "The Great Pumpkin Shoot - Aiming to Feed Seniors." Jeff Bither and David Baker, SWBC Area Branch Managers, strongly believe in the important work MOWMC does to help the fragile neighbors remain nourished, connected to the community and independent within the comfort of their own home.

David Baker is proud that SWBC has been the presenting sponsor since 2016. "We love the opportunity to support seniors in an event that makes a difference to so many in the community Last year 32 teams participated, up from 16 teams the first year. We want to continue to grow this event to help the homebound seniors on the waiting list. Our goal this year - 36 teams!

The enjoyable morning of shooting clays is open to men and women of all experience levels. Entry includes breakfast, 72 clays, golf cart, a delicious lunch catered by Avendia Brazil, raffles and trophy awards.

"This event encourages the community to participate in a fun event that makes a significant impact on our
underserved vulnerable senior population," said Joanne Tikkanen, MOWMC Board Chairman. In 2018 the
Pumpkin Shoot provided funds to feed 36 seniors with an entire year's worth of home-delivered meals!"

Founded in 1973, Meals on Wheels delivered 132,595 nutritious meals in 2018 to the fragile homebound senior
population. Each meal delivery is accompanied by a friendly smile and conversation, helping to reduce senior
loneliness. These visits also serve as a safety check, ensuring each senior is safe in their home. Meals on Wheels
Senior Rides program helps eliminate the isolation associated with the inability to drive, while providing much
needed transportation services to doctors, dialysis, grocery store, and other appointments.

2019 sponsors include Cigna HealthSpring, Entergy, Green Financial Group, Great American Title, Insperity,
Kevin Baker Homes & Real Estate, Memorial Hermann The Woodlands, Strike LLC and Vitruvian Exploration. Serving on The Great Pumpkin Shoot committee are Rodney Anderson, George and Nancy Gray, Michelle Hoover, David Nettles, Debbie Winston and Brent Wulf.

Interested sponsors and teams are encouraged to contact Sarah Redfield at sarah@mowmc.org or 936-756-
5878.