/

/

Tropical Depression Imelda Blasts Houston Area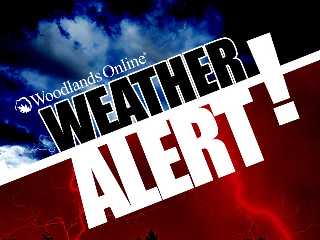 THE WOODLANDS, TX -- UPDATE: 10 AM CDT: Weather update: the National Weather Service has issued a Flood Advisory for much of the greater Houston area, including portions of Harris and Montgomery Counties that comprise The Woodlands area. At 9:49 am, Doppler radar indicated heavy rain that will cause flooding in the advisory area.

Excessive runoff from heavy rainfall will cause flooding of small creeks and streams and nearby or low-lying urban areas, highways, streets, and underpasses as well as other drainage areas.

And remember -- most flood emergencies occur in vehicles. When encountering flooded roads: turn around, don't drown.


THE WOODLANDS, TEXAS -- Southeast Texas will be facing a day of heavy rains and flash flooding Wednesday as Tropical Storm Imelda, downgraded to a tropical depression, still packs a dangerous punch for millions of residents.

Tropical Storm Imelda made landfall Tuesday afternoon near Freeport, 60 miles south of Houston. Imelda, crawling north at about 5 mph, is the first named storm to slam onto Texas shores since the staggering devastation of Hurricane Harvey two years ago.

Some areas could see up to 18 inches of rain before the storm rolls away at week's end, the National Weather Service warned. Parts of Houston have seen almost 7 inches of rainfall already, and the storm could drench areas with as much as 3 inches of rain an hour, the weather service warned. Flash flood watches were in effect for southeast Texas, including parts of Harris and Montgomery Counties that comprise The Woodlands.

Jeff Lindner, a meteorologist and director of flood operations for the Harris County Flood Control District in Houston, said warned that Imelda remained a threat despite losing tropical storm status." We have a few things in our favor. The ground is dry. It's been dry for a while here as we've come through summer," Lindner said. "The initial parts of this rainfall will go toward saturating the ground."

The remnants of Tropical Storm Imelda are projected to continue to slowly drift northward through Montgomery County today. According to the National Weather Service, deep tropical moisture will continue to stream into the region through Thursday morning, fueling the redevelopment of showers and thunderstorms. Residents of The Woodlands area may expect 2 to 4 inches of rainfall per hour accompanying the strongest of these residual storms.

Please remember: it can be hard to recognize the immediate dangers of a flash flood. If flash flooding ins observed, move up to escape flood waters. Do not stay in areas subject to flooding when water begins rising.