/

/

Repairs on Research Forest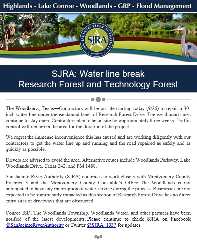 THE WOODLANDS, TX -- Precinct 3 Commissioner James Noack's Office has instructed the San Jacinto River Authority to properly repair and open all lanes of traffic on eastbound Research Forest Drive as soon as possible.

The SJRA, in a release issued today (see above), stated it would take three weeks to complete the repairs. The Commissioner's Office has instructed the SJRA to work around the clock in order to finish the project ASAP.

When the 30-inch waterline break occurred Sept. 13 underneath the eastbound lanes along Research Forest Drive, it was initially proposed to place temporary asphalt in order to reopen the eastbound lanes between Technology Forest Drive and New Trails Drive until the SJRA could acquire replacement pipe and repair the line.

However, the SJRA determined that it could have the replacement pipe delivered, repairs completed and permanent concrete pavement replacement completed by Sept. 27. Tropical Storm Imelda delayed progress and pushed back that deadline.

That said, Commissioner Noack has made it clear that the traffic disruption is not acceptable and that every effort must be made to repair the road not only properly, but expeditiously.

The San Jacinto River Authority is responsible for all water pipeline and road repairs, as well as traffic control and barriers on this project.