/

/

Top 5 Things to Do This Week in The Woodlands - October 14, 2019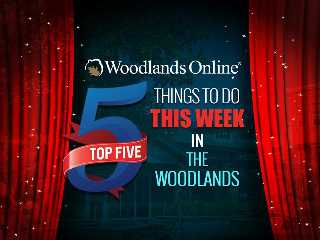 THE WOODLANDS, TX – Halloween is right around the corner and the temperatures are cooler. Welcome to Autumn in The Woodlands. Here's our picks of the Top 5 Things to Do this Week in The Woodlands.

On Monday, October 14, Over the Top Cake Supplies will be hosting a pair of fun, Halloween-inspired, classes for children. The first, Kids Camp: Halloween Cake, will let children decorate their own Halloween drip cake. This class is from 11:30 AM to 1:30 PM. The second class, Kids Camp: Faces of Halloween Cookies, will allow children the opportunity decorate their own Halloween cookies. Each class is suited for children 6 – 12 years old, and the children will be able to take home their tasty creations.

Tuesday, October 15, is Star Wars Game Night at The Adventure Begins. All Star Wars games are welcome from 5:00 PM to 8:00 PM. This gaming free-for-all allows you to meet other fans with shared interests and find a monthly time to play your favorite Star Wars games.

It's Lover's Night at Schilleci's New Orleans Kitchen on Wednesday, October 16. Come out between 4:00 PM to 9:00 PM and enjoy a bottle of wine with your delicious dinner. Even better, take $10 off any bottle of champagne or wine during the event.

Dosey Doe – The Big Barn is proud to welcome Acoustic Alchemy on Thursday, October 17. Come out and enjoy this UK-based group craft together Jazz, Pop and World Music. Doors open at 6:30 PM. Ticket prices vary.

One Friday evening, October 18, come out to The Woodlands Waterway Marriott Hotel and Convention Center for Texas Children's Hospital's Houston Torch Relay, benefiting Texas Children's Hospital and the Children's Miracle Network. Registration begins at 5:30 PM, with the event beginning at 7:00 PM. No matter where you are, you can make a difference when you go the distance!

For many more fun events, please visit the Woodlands Online Events Calendar.