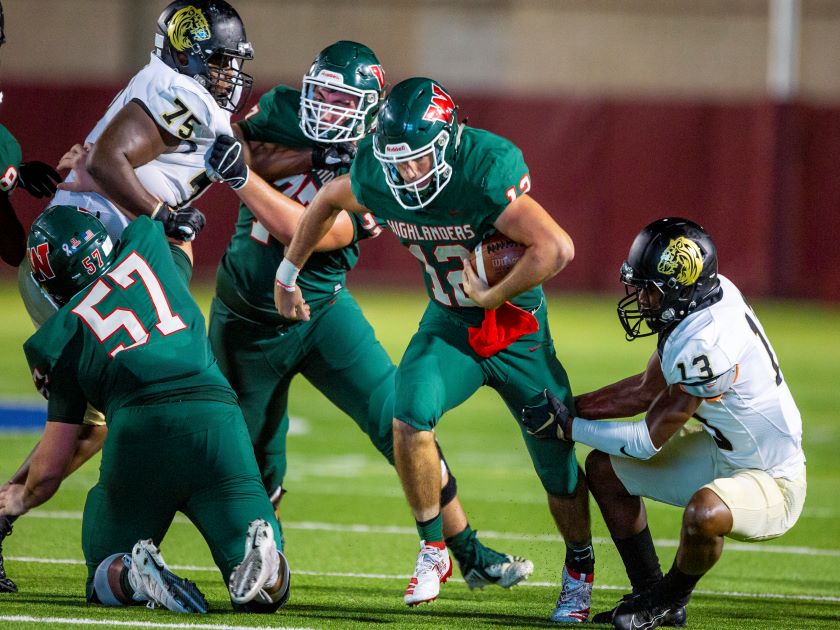 THE WOODLANDS, TX -- Coming into Friday night's game, Conroe had been lightning up scoreboards on their way to a 3-1 start in District 15-6A. The Woodlands was challenged with slowing down the explosive Tigers offense, and they did just that. The Highlanders defense shut down Conroe for the majority of the game in the 31-16 win on Friday.

The Woodlands came out and set the tone and established control early in the game. A strong opening drive capped by a Ben Mills rushing touchdown, and Carter Doucet's interception to end Conroe's first drive quickly quieted the Conroe side of Woodforest stadium.

The Highlander defense knew they had to prove they were a dominant unit against a high-powered passing game. With the front seven swarming all over the field and the secondary smothering Conroe receivers, The Woodlands never allowed Conroe to gain any momentum. Highlander DB Dylan Binney picked off Christian Pack, forcing the second turnover of the half. The INT led to running back Brandon Wheeler taking a sweep for a TD from 10 yards out to give the Highlanders a 17-3 lead going into halftime.

Conroe was able to put together two scoring drives in the second half, but for the most part, the dominance of the Woodlands defense continued. Christian Pack's leaping 1-yard touchdown run and Jalen Williams' 54-yard screen pass TD reception was the only time Conroe found the end zone. Conroe QB Christian Pack was held to just 191 yards and another 82 on the ground. Star wide receiver Michael Phoenix finished with just 53 receiving yards.

Ben Mills added two more TDs, one passing, and one rushing in the second half. Mills, under pressure, connected with his receiver Ben Ferguson for a 15-yard TD. In the fourth quarter, his 18-yard rushing TD would essentially ice the game.

The Woodlands moved to 4-2 after Friday's win, moving them into third place in the district. The Highlanders will have a bye before taking on Klein Collins (4-1). Conroe drops to 3-2 and into a fourth-place tie with Klein Cain, however, Conroe holds the tiebreaker over the Hurricanes. Conroe will face Klein Collins at Moorhead next Friday.