/

/

'Market Street in Lights' Christmas Tree Lighting Celebration Set for November 21
'Market Street in Lights' Christmas Tree Lighting Celebration Set for November 21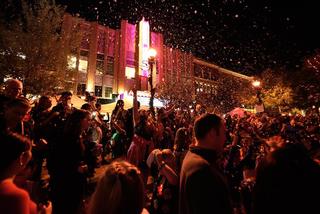 THE WOODLANDS, TX – Market Street -The Woodlands will kick off the holiday season when its soaring, 70-foot Christmas tree, synchronized to twinkling lights and holiday music, debuts Thursday, November 21 at 6 p.m. as part of the shopping, dining and entertainment destination's "Market Street in Lights" tree lighting celebration.

Sponsored by Sewell Automotive and Texas Children's Hospital – The Woodlands, "Market Street in Lights" will attract hundreds to witness the first "performance" of Market Street's Christmas tree and the more than 25,000 multi-colored lights adorning the destination's Central Park. "Market Street in Lights" presentation will continue nightly throughout the holiday season.

As part of the evening's festivities, which take place until 8 p.m., one deserving family or individual, nominated as the 2019 Official Lighting Luminary, will light the tree in front of the cheering crowd.

Kicking off a holiday season of events, the celebration continues with live musical performances, entertainers and holiday carriage rides.

Traditional horse-drawn carriage rides will be available in front of the Cinemark Theater and will operate from 6 – 9 pm. Rides are $10 per person; children ages 12 and under are $5.