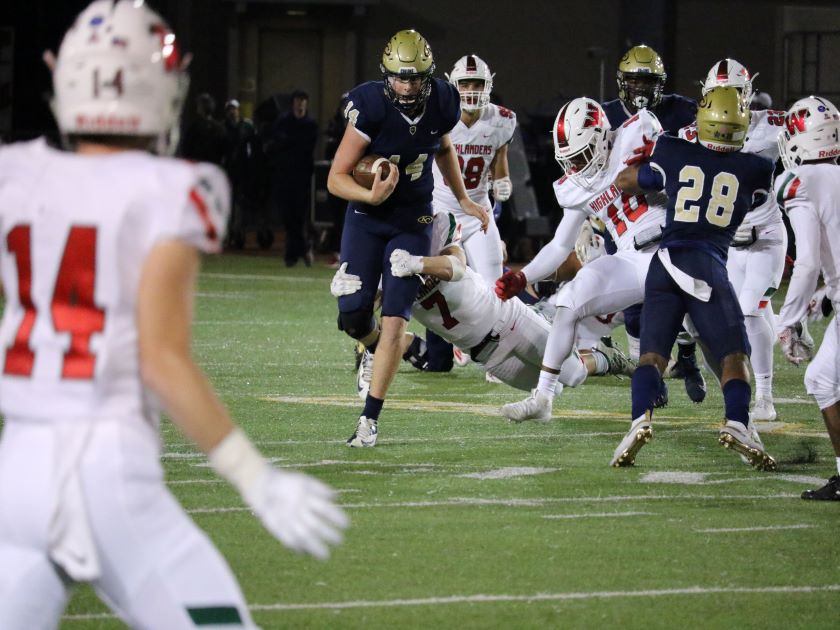 KLEIN, TX -- One yard separated The Woodlands and Klein Collins in the 20-13 loss for the Highlanders. The Tigers defense came up with a goal-line stand, stopping Teddy Knox on the final play of the game to preserve the come from behind win and improve to 7-1 and clinch at least a share of the title in District 15-6A.

It was Knox who opened the scoring on Friday night on essentially the same play as the failed game-tying attempt. The wide receiver lined up at QB and took the power run nine yards into the end zone.

For the majority of the night, the defenses were the stars of the night. The Woodlands touchdown with 1:11 remaining in the first quarter was the only touchdown of the game until 7:59 in the fourth quarter. Along the way, Klein Collins kicker Tanner Ward hit two 30-plus yard field goals, one in the second quarter, and one in the third, to pull the Tigers within one. Highlanders kicker Fabrizio Pinton was two for two on the night. Pinton hit a pair of 40-yarders, including the game-tying field goal after Klein Collins previously took the lead on a Colby Powers 4-yard TD run.

Powers would find the end zone on another goal-line carry to give Klein Collins the 20-13 lead with 2:19 left in the game. The Woodlands put together an electrifying two-minute drill to get into a position to win, but ultimately, Klein Collins wouldn't be fooled twice by the same play at the end of the game.

The Woodlands drops to 4-3 in the district, good enough for the final spot in the playoffs. With a win next week against a currently winless Klein Forest team, the Highlanders will clinch a playoff spot on the final week of the season.