/

/

Woodlands Online Faces of The Woodlands December Winner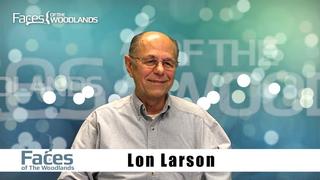 THE WOODLANDS, TX -- Lon Larsen is known best by the work he does behind a camera. Since moving to The Woodlands in 1984 Larsen has spent a majority of his photography career covering sporting events at The Woodlands High School and McCullough Junior High (formerly McCullough High School). With impeccable timing and an artistic eye he has captured treasured moments for so many in The Woodlands area.

His father, who had a similar passion, introduced Larsen to the world of photography at a young age. "Some of my earliest memories were from him taking pictures of me and then going in and setting up the dark room at night," Larsen said. "Turning off all the lights and printing the pictures … I could see the chemicals come up in the pictures … it was like magic," he said.

Larsen began to take photos of his own when he was in eighth grade. After repeatedly injuring himself in football he switched to taking pictures of the games instead, allowing him to stay involved while guarantying his safety. He carried his hobby of sports photography into college and beyond.

One year, while living in Des Moines, Iowa, Larsen decorated his apartment walls with photographs that he'd taken at local high school football games. In a twist of fate, the star running back of the team knocked on Larsen's door to sell him raffle tickets. He immediately recognized himself in one of the photographs and asked if he could buy it. Larsen traded the photo for a raffle ticket and shortly after a procession of football players arrived at his door eager for a chance to see the rest of the pictures. Eventually word got around and the principle of the school offered him a sideline pass so that he could take photos for their yearbook.

"So then I got the idea that people would actually like to have some of these pictures other than just me," Larsen joked.

In the 1970s his dad quit his job and moved to The Woodlands where he opened a camera store. Larsen later joined the family business and became a freelance photographer for local newspapers on the side. Once again, through word of mouth, Larsen was able to secure a sideline pass at McCullough High School. His images were coveted so highly by parents that they began to request he cover sports other than football. It was an opportunity he readily took on.

When asked why he prefers sports photography, he said that it lies within the difficulty. "The challenge of getting the shot at the right moment and the right picture … it's gratifying when you know you've gotten a good picture and somebody will really like it," he said.

Larsen currently shoots with a Canon EOS-1D Mark IV and a Canon EOS-1DX, but he still has the first camera he ever owned, a Twin Lens Reflex Camera that his father gave to him for Christmas as a child.

Besides the opportunity to work in his field of choice, Larsen most enjoys the community aspect of what he does. "My favorite part of the job is just being around all of the people quite honestly," he said. "I've got a camera so they're always all smiling at me."



Woodlands Online thanks Lon Larsen for all that he has done and continues to do for our community. We also want to extend a special thank you to Radunare - Italian American Table for gifting our contest winners with an authentic Italian meal for them and ten of their family and friends!

Do you know someone who deserves to win Faces of The Woodlands? Nominate them here.