/

/

Montgomery County Becomes First Southeast Texas County to Utilize Life-Saving Public App
Montgomery County Becomes First Southeast Texas County to Utilize Life-Saving Public App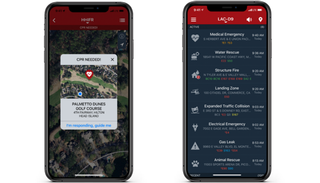 MONTGOMERY COUNTY, TX - The Montgomery County Hospital District EMS is proud to announce a partnership with the PulsePoint app - an effort to increase bystander CPR in the county and alert citizens of ongoing emergencies.

This app featured on Good Morning America: https://vimeo.com/115192332

More on the PulsePoint app: https://vimeo.com/157539251

The PulsePoint Respond app alerts CPR-trained individuals to someone nearby having a sudden cardiac arrest that may require CPR. The app's alert system is activated by our 911 dispatch center simultaneously with the dispatch of our first responders. The goal is to encourage every CPR-trained citizen in our county to download the app, so they can be alerted of a nearby person in need of CPR.

The life-saving CPR alerts are provided through an in-app feed of EMS activity in the community.

Sudden Cardiac Arrest (SCA) is the leading cause of death in the United States, accounting for 325,000 deaths every year. Bystander CPR is one of the most important factors in saving the life of someone in cardiac arrest. Without CPR in the first minutes of a cardiac arrest, permanent brain damage or death can occur in less than 8 minutes. The chances of survival decrease by 10 percent every minute that person goes without CPR. So, after 10 minutes, there is a very small chance of a successful resuscitation.

MCHD's partnership with PulsePoint can and WILL save lives by getting the right people where they need to be at the right time.