HS Basketball Scoreboard: Conroe and The Woodlands continue race for playoff spot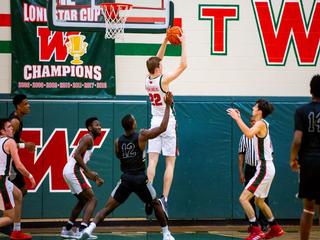 THE WOODLANDS, TX --

Conroe 69, College Park 63

The Tigers needed a win to keep pace with The Woodlands for the fourth and final playoff spot in District 15-6A. On Senior Night, led by senior Michael Phoenix's 24 points, Conroe got the win they needed to keep their postseason hopes alive. Next Game: @ Klein Oak - 2/18

College Park, the current two-seed, failed to take advantage of Klein's loss. A win in their season finale on Tuesday could've potentially earned the Cavaliers a share of the district title if Klein lost again. Now CP will need a win to make sure they hold on to that second-place spot. Next Game: vs The Woodlands - 2/18

The Woodlands 64, Oak Ridge 63

Oak Ridge has been playing good basketball as of late. A week ago, the War Eagles pushed Klein to the limit. Friday night, behind Marco Limon's 28 points, they nearly played the spoiler role on the road at The Woodlands. Next Game: vs Klein Collins - 2/18

The Highlanders weren't having it, however. Brock Luechtefeld scored a team-high 18 points and much like Conroe, The Woodlands seniors stepped up on Senior Night. Senior Andres Pallares caught an inbound lob and scored the game-winning layup with seconds remaining to avoid an ill-timed loss. Next Game: @ College Park - 2/18


The Woodlands @ College Park Live on Woodlands Online

The first meeting between these rivals was electric. When the final buzzer sounded, it was the road team's players and fans storming the court. With so much on the line this Tuesday, The Woodlands would love to return the favor, clinch a playoff spot, and potentially bump College Park down in the standings. College Park would love to sweep the Highlanders and potentially shut the door on the Highlanders' playoff hopes.

Either way, Tuesday's game will have the energy and intensity of any great sports rivalry. This game is expected to sell out, so if you're not in attendance, be sure to stream the game right here on Woodlands Online.