/

/

Junior League of The Woodlands Celebrates 30th Anniversary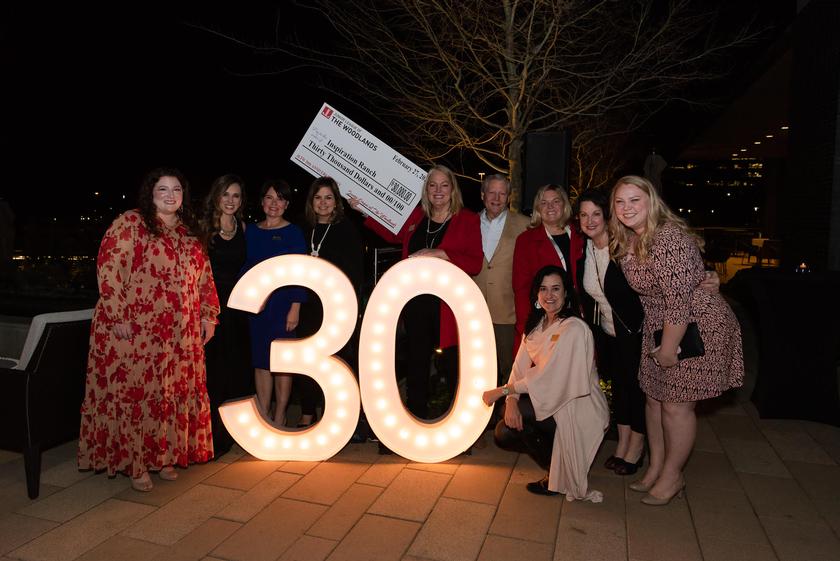 THE WOODLANDS, TX - Junior League of The Woodlands, Inc. (JLTW) commemorated 30 years of service in a celebration held on February 27, 2020 at The Canopy Room of CityPlace Marriott. It was an evening of celebrating the past while looking excitedly to the future and was flawlessly executed by JLTW member and event planner extraordinaire, Jennifer Lowrance of J Low Events.

Over the course of 30 years JLTW has partnered with organizations through member volunteer hours and financial gifts to support and build our community. This past year alone, JLTW awarded $131,770 in monies and over 40,000 volunteer hours. JLTW also supports its members with their interests, goals and leadership development, and they in turn, have been the driving force of JLTW to make an impact in our community.

The Junior League has evolved into one of the oldest, largest, and most effective women's volunteer organizations in the world, encompassing more than 140,000 women in 291 Leagues across four countries. Junior League of The Woodlands is one of the 50 Largest Leagues within the Association and is almost 600 Members strong.

One of the highlights of the night was the announcement of the JLTW 30 th Anniversary Gift recipient. The intent of this grant is to have a lasting impression on the awarded community organization with a need that aligns with our values and mission of improving the lives of women and children. The 30 th Anniversary Gift of $30,000 was awarded to Inspiration Ranch. "The Junior League of The Woodlands has been a committed partner for years," says Inspiration Ranch President and CEO, MG Tindall, "They have supported our clients and families through the devastating floods, growth, relocation, and expansion. Whether they have shown up in person to lend us their hands or have gifted us financially to support our programs and needs, we have always been able to rely on this incredible group of women. It is so fitting that, now, they will be a permanent part of Inspiration Ranch's future with this gift."

The cornerstone of Junior League is the membership, which is made up of a diverse population of women with a variety of skills, backgrounds, and interests. Through our members' willingness to give considerable time and energy to the organization, we are able to achieve ongoing and lasting changes in the community.

An example of such a member who encompasses the League's values and leadership is the recipient of the 2020 Vision Award, Linda Martens. Linda is a Charter Member of the League and has held many different roles within the organization, including President and Sustaining Advisor to the Board. "Linda exemplifies the type of leader we all strive to be, always mentoring, inspiring and influencing all members to achieve greater results in their work, leadership, and community," says Allison Tinker, Junior League of the Woodlands' President, "Her influence and dedication to our League has a multiplying effect that is immeasurable." Linda was recognized through a gift to the Sustaining Scholarship Fund, which provides scholarships to female graduating high school seniors who exhibit the values of Junior League – a dedication to voluntarism, community leadership, and civic service.

Junior League of The Woodlands is grateful to all members who have devoted their time and talents to enable the organization to make a positive impact in the lives of our neighbors and community. Partnering with other organizations has helped us to expand our reach and to diversify our impact on the community. JLTW looks forward to continued service and expansion of its programs and outreach, and to fulfilling the ongoing needs of our community and our members in ways that are meaningful and enriching.

Junior League programs and community funds are supported by monies raised through various fundraising activities, sponsorships and donations. Junior League of The Woodlands works collaboratively with community partners to provide resources to existing services and develop flagship programs for our community. We are grateful for the generous support of local leaders, businesses, and organizations that help us fulfill this mission.

In addition to this Anniversary Gift, JLTW will continue to bestow monetary awards through our Community Assistance Fund. Applications through our Community Assistance program opened in January 2020 and will extend through March 15, 2020. To apply for the Community Assistance Fund, please visit our website at: www.jlthewoodlands.org/community-assistance/.

Interested in becoming a member? Junior League welcomes all women who value our Mission. We are committed to inclusive environments of individuals, organizations and communities. For more information, please visit our website at: www.jlthewoodlands.org/join-jl/.