/

/

Junior League of The Woodlands Donates Over $49,500 to Community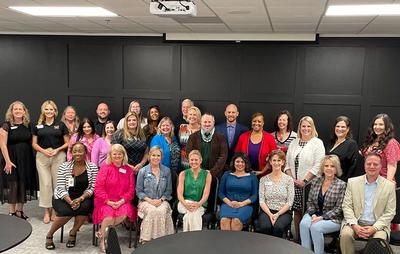 THE WOODLANDS, TX – On May 3, 2023, Junior League of The Woodlands, Inc., (JLTW) hosted a Community Assistance Fund (CAF) Ceremony where selected community partners were awarded funding grants.

The following organizations received 2023 funding: Abundant Harvest, All Ears! Listening and Language Center, Assistance League of Montgomery County, CASA Child Advocates of Montgomery County Inc., Community Assistance Center, Cy-Fair Helping Hands, Cypress Assistance Ministries, God's Garage Inc., Keep Us Fed Montgomery County, Lone Star Family Health Center Inc., Love Fosters Hope, Pearl Fincher Museum of Fine Arts, Special Angels of The Woodlands, St. Luke's Foundation, YES to YOUTH - Montgomery County Youth Services.

In total, $49,657 in grants were awarded to fifteen organizations to fund projects and programs within the JLTW service area and align with their mission.

"Presenting CAF grants to many deserving community partners is an honor every year. We received over 100 submissions in this application window," said Amber Neimeyer, Community Vice-President of JLTW. "As you can imagine, it was a competitive selection process as each program presented was so worthy. We are excited to further our relationship with those selected and see the impact each organization will make on our community."

"Our Members spend countless hours serving the community throughout the year, working various volunteer shifts and running our signature programs," Katie Schonert, President of Junior League of The Woodlands. "Having the ability to award CAF grants is just one more way that we hope to provide real and lasting change. Without our friends, neighbors, co-workers, and community supporting our fundraising efforts throughout the year, it would be impossible. We are so grateful."

Junior League of The Woodlands, Inc., is a nonprofit organization of women committed to promoting voluntarism, developing the potential of women, and improving the community through the effective action and leadership of trained volunteers. Its purpose is exclusively educational and charitable. For more information on Junior League of The Woodlands, please visit www.jlthewoodlands.org or follow us on social media: Facebook /JLTheWoodlands or Instagram/JLTheWoodlands.