/

/

New Danville's Spring Thing Postponed Until September 25, 2020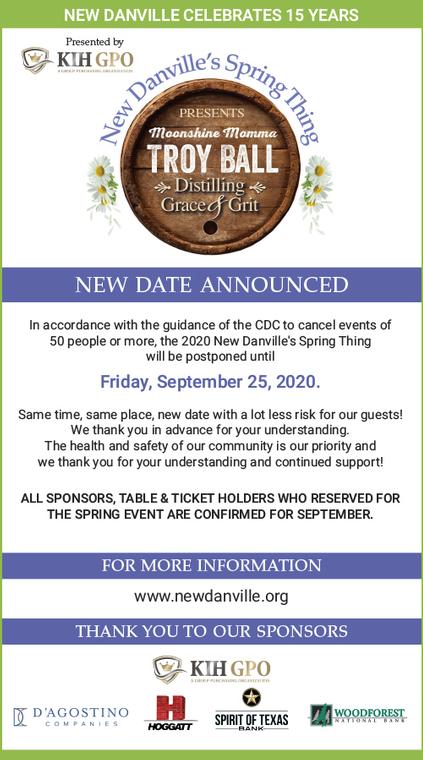 WILLIS, TX -- New Danville announced today that in order to comply with the CDC mandate to cancel events of 50 people or more, New Danville's Spring Thing will be postponed until Friday, September 25, 2020.
Same time, same place, new date with a lot less risk for our guests! We thank you in advance for your understanding. The health and safety of our community is our priority and we thank you for your understanding and continued support!

ALL SPONSORS, TABLE & TICKET HOLDERS WHO RESERVED FOR THE SPRING EVENT ARE CONFIRMED FOR OCTOBER.

EVENT DETAILS:
April 24, 2020….October , 2020 -- New Danville's Spring Thing will be held at The Woodlands Resort, 2301 N Millbend Drive, The Woodlands TX 77380. Doors will open at 10:30 am. For more information including available sponsorships please visit: www.newdanville.org
New Danville serves adults with developmental and intellectual disabilities in an environment promoting dignity, respect and individual choice. Our day and residential program was developed to empower and maximize personal independence by offering an environment that allows people the opportunity to learn social and money-skills, participate in product-based and job skills-training to promote independence and self-reliance, and ultimately grow by offering activities that enrich the mind, body and spirit. New Danville is a Texas not-for-profit 501(c)(3) charitable organization.