/

/

The Republic Grille Donates to Firefighters with Help from Sysco Houston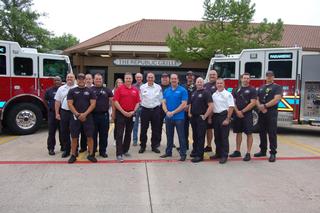 THE WOODLANDS, TX -- Continuing its ongoing effort to support locally, The Republic Grille, in conjunction with Sysco Houston, has donated food and care packages to The Woodlands Fire Department and its eight fire stations. The donations will serve more than 170 firefighters throughout The Woodlands.
Donations will assist more than 170 firefighters
"We all find ourselves in unchartered waters and when faced with a crisis, it is merely an opportunity for you to do your best. The Republic Grille wanted to do something to support the hard work and brave dedication of our local first responders during this pandemic crisis," explained Terry McBurney, Founder and Managing Partner of The Republic Grille. "Our food service partner Sysco Houston has been tremendous in these efforts and they graciously jumped at the opportunity to help, donating a wide range of food products including an array of Certified Angus Beef ® products. Their willingness to help with this and other great causes is a testament to their forward thinking. We are truly thankful to have them as our food service partner."
The Republic Grille is currently offering pick-up and curbside delivery from its location in the Panther Creek Shopping Center at 4775 W. Panther Creek, Suite 490. To place an order, visit www.therepublicgrille.com or call (281) 719-5895. Follow The Republic Grille on Facebook at https://www.facebook.com/therepublicgrilleofthewoodlands/.