/

/

Local Non-Profit and Business Band Together to Host a Mobile Market Food Distribution
Local Non-Profit and Business Band Together to Host a Mobile Market Food Distribution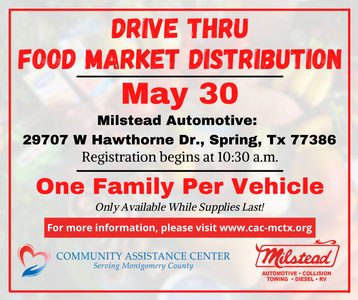 THE WOODLANDS, TX -- Milstead Automotive has teamed up with the Community Assistance Center to offer fresh fruits and vegetables, canned goods, meat and toiletry items to those who have been impacted by COVID-19. The Mobile Market Food Distribution will be held on May 30 at Milstead Automotive.

"We love giving back to the community and when the opportunity to partner with such an amazing organization came up, we're happy to help," President Amy Milstead said. "Time and time again, our community pulls together in hard times."

Guests who are attending the Mobile Market, are asked to come down East Hawthorne Drive at the stoplight by CVS. Guests will be asked to remain in their car to help limit the amount of contact.

"We're excited for the Mobile Market," General Manager Jeff Collins said. "It is a much-needed service in Montgomery County, and I'm glad the Community Assistance Center is providing it."

The Mobile Market will start at 10:30 a.m. and will continue until supplies last. Milstead Automotive and CAC are planning on serving about 300 families.

'Milstead Automotive has been in our community for over forty years, and they take care of the community they live and work in,' CAC Executive Director Jennifer Landers said. 'We are excited to partner with Amy and her team to serve our neighbors and help combat food insecurity during this unprecedented time.'

The Mobile Market will be a drive-thru style and each family will get enough food to last about a week.

"Our county and community are strong, and we pick each other up," Amy said. "I've seen the reliance of the people who live here and getting through COVID-19 is no exception."

The CAC provides financial crisis assistance, counseling, disaster relief, grocery services and much more. The organization has been serving Montgomery County since 1981. To learn more about CAC and its mission, please visit www.CAC-MCTX.org.

About Milstead Automotive and Milstead Collision
For over 48 years, Milstead Automotive has been proudly serving The Woodlands and Spring area. CEO and founder Dick Milstead started the company in his 2-car garage and grew the business with the help of his family. Now with 29 bays and two locations, The Milstead Automotive and Milstead Collision team continues to grow and dedicate their time and service to the community. Milstead Automotive also has the largest fleet of towing and recovery vehicles in Montgomery County with 24/7, 365 days a year dispatch. The company offers services for RVs and commercial vehicles, as well as mobile fleet repair. The company and its president, Amy Milstead, are devoted to causes and charities throughout the community and state. For more information visit www.milsteadautomotive.com or www.milsteadcollision.com or follow us on Facebook @milsteadautomotive or Instagram @milstead_automotive.