/

/

Fourth Annual Shelter for Shelter in The Woodlands; Richmond Realty Group Partners with Yes to Youth to Raise Money for Youth in Need
Fourth Annual Shelter for Shelter in The Woodlands; Richmond Realty Group Partners with Yes to Youth to Raise Money for Youth in Need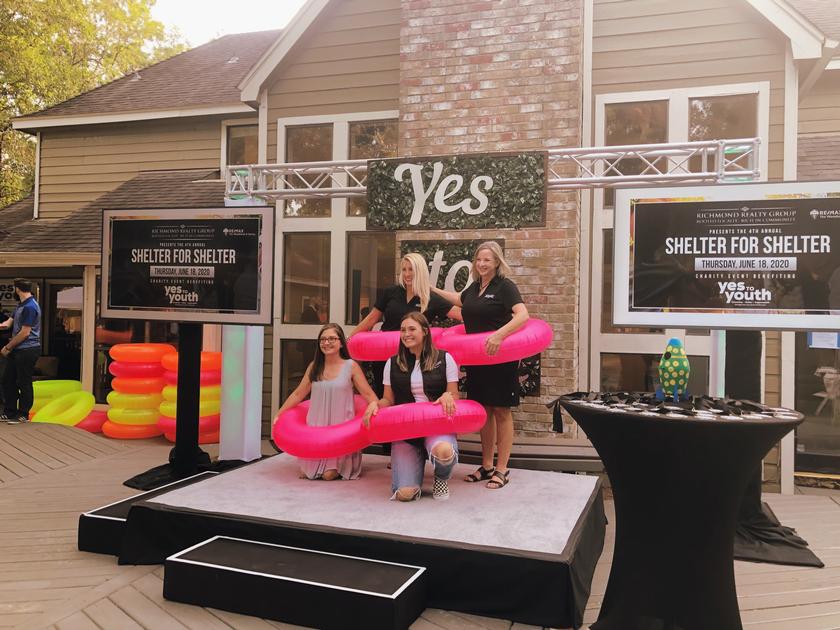 THE WOODLANDS, TX – Four years ago, Richmond Realty Group RE/MAX The Woodlands and Spring, paired up with Yes to Youth, a non-profit located in Montgomery County that positively impacts the lives of children and teens, as well as their families. Together, they created Shelter for Shelter, a fundraiser that focuses on building space for children who need to be rescued from abuse, neglect, homelessness, and sex trafficking.

Since Shelter for Shelter's inception, they've been able to raise over $200,000 for Yes to Youth's services, including crisis counseling, shelter programs, and prevention services to strengthen families, keep youth in school and prepare them to be productive citizens.

The Fourth Annual Shelter for Shelter took place June 18 both virtually and in-person. The night started with the goal of $25,000, of which Richmond Realty Group matched dollar for dollar. That goal was met with such enthusiasm that the night ended with $44,208 in pledged and received sponsorships and donations.

"Because of you and your belief that all children should have a safe place to lay their head at night, we are building new cottages," said Yes to Youth CEO Dannette Suding, as she announced that the money raised over the years has allowed them to build two new cottages that will house boys and girls in need, ages 10 to 17.

With the completion of these cottages set for next month, Yes to Youth's BridgeWay Youth Shelter will double in size. Whereas they could originally house 15 children, they will now house 30. "Which means more kids across our great state of Texas will get to have a safe home," said Shelter Director Jamie Parker with tears in her eyes.

"BridgeWay Youth Shelter is an emergency group, state-licensed, residential home for youth who are primarily in child protective services," Parker continued. "They receive 24-hour emergency shelter care while they're with us … What we try to create at BridgWay is a home for these kids," she said. "For some of them this will be the only home they ever have, so while they're with us we try to show them love, but most of all we want them to feel safe."

The donations and sponsorships were plentiful, and the money raised will be used to change the lives of many. The donation site will be left open for the next week for those who haven't had a chance to donate.

The levels of donations are as follows: A donation of $50 provides therapeutic games and materials for Yes to Youth's counseling sites. $100 provides one hour of counseling for a youth and their family. $250 provides a one-night stay at BridgeWay Shelter including medical and psychiatric care as needed. $500 provides clothing, bedding and personal care packages for children who arrive with no belongings, and $1,000 provides a six-week grief group-counseling program in our local schools.

In an effort to make Shelter for Shelter as successful as possible, Zach Richmond of Richmond Realty Group and his wife, Rachel, opened their home to host the event. Zach participated in fun "punishments" dished out by the groups that raised the most money. Leadership Montgomery Class of 2019, having raised $1,690, was able to make him walk on a steep-inclined treadmill throughout the night. Home for Good, who raised $2,930, got to push him in the pool, and Woodlands Rotary, who raised $4,355, got to shave his beard in a silly design of their choosing, which he will wear for a week.

Kirby's Prime Steakhouse, Tommy Bahama Restaurant and Bar, Avenida Brazil, and Zanti Cucina Italiana kept guests full and happy with their catered food, drinks, and treats, and Audio Visual Resource Group set up a control center of sorts in the garage where they streamed the night's event to all virtual guests.

The Fourth Annual Shelter for Shelter was a culmination of effort by many people and groups from around the community who are committed to making a difference in the lives of our youth.

Sponsors of this wonderful event included: America's ER, Avenida Brazil, AVRG PRO, Blanton Advisors, LLC, Boone Restoration, Budget Blinds, Chick Fil A, Derrick Bryant Photography, The Everson Family, Anonymous -Friend of Yes to Youth, Frontrunner Consulting Group – The Human Side of Business Success, Constable Ryan Gable, Gracepoint Homes, Guy Facial Plastic surgery, Haynie & Company, Steve and Linda Head, Hunter Lee Strong, I Promote You, J Beard, Kean Miller, Keridon Fitness, The Kimball Group LLC, Kirby's Steakhouse, Link Magazine, Liz Grimm PR, The Madalyn Cooke Foundation, MamaLycha Foods, Moore of Everything, Nebular Films, Prime Lending, RE/MAX The Woodlands and Spring, Michael and Vicki Richmond, Dr. Lucian and Patti Rivela, Rosemary Rodd, Southern Title Texas, Spinal Care Chiropractic, Spirit of Texas Bank, Starfox Financial, Stull Inspections, Stull Pest Control, Superior Home Renovations and Construction, Texas Engineered Roofing, Tommy Bahama, Waste Connections, Wolford Group, Woodforest by Johnson Development, Zanti Cucina Italiana.


To donate, click here.
To read about Yes to Youth, click here.
For further information on Richmond Realty Group, click here.