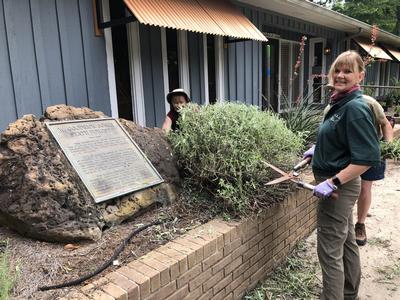 The Woodlands, TX, -- After the Coronavirus pandemic forced it to postpone what would have been the largest training class in its nearly 15 year history, the Heartwood chapter of the Texas Master Naturalists will begin its annual training class in January of 2021 -- the first time The Woodlands-based chapter has held a class so early in the year.
Local Chapter To Hold January Training Class To Make Up For Postponed March Class; Adds Junior Texas Master Naturalist Program
And in response to ongoing inquiries and requests for information about the chapter's training and services, Heartwood's Board of Directors approved forming what will be the chapter's "first ever" Junior Texas Master Naturalist Program.
"Our volunteers are our most valuable asset," said Carolyn Langlinais, Heartwood chapter president. "Our first concern is for their health, so, in an abundance of caution, we'd like to have them join us when things are a bit less uncertain. We'll be looking forward to having them all join us for learning and volunteering in 2021."
For the training class that had been scheduled to begin in March, demand was so great that
chapter had to turn people away. But when the Coronavirus pandemic hit, Texas Parks & Wildlife and Texas A&M AgriLife, which both sponsor the Texas Master Naturalist program, placed restrictions on group meetings and other gatherings, explained Scott Ball, Heartwood's training director.
"There are just too many headwinds," Ball said in explaining why the class was pushed back.
Trainees who had already applied and paid the fee for what would have been the 2020 training class will be first in line for the January 2021 class, which will have a maximum class size of 40 people. Those who want a refund instead, just need to contact Ball. With demand expected to exceed the number of slots available, people interested in signing up for the first time are encouraged to enroll promptly, though the start date of the 2021 class would still be dependent on the state of the Covid virus outbreak and advice from state and medical authorities.
As for the Junior Master Naturalist class, plans are for a condensed training schedule that would begin in January. Five classes are planned, with one per month from January through May, for
kids aged 9-13. Registration is $50, which will cover materials needed for the class. Slots are expected to fill up quickly, since space is limited to the first 20 students.
About The Heartwood Chapter of the Texas Master Naturalists
The local chapter of the Texas Master Naturalists trains community residents who love the outdoors to volunteer and assist with nature projects in Montgomery and Walker counties. Part of a larger statewide organization, the Heartwood chapter has been involved in a number of high-profile local projects including a massive milkweed project in The Woodlands, participating in an annual bird count and helping to remove invasive plants. Heartwood volunteers also work on maintaining the outdoor nursery at Jones State Forest and take part in other conservation projects throughout Montgomery and Walker counties.
For information on the Heartwood Chapter of the Texas Master Naturalists contact Carolyn Langlinais at (281) 851-5330 or heartwoodpres@gmail.com
To sign up or for more information on becoming a Texas Master Naturalist go to https://txmn.org/heartwood/how-to-join/ or contact Scott Ball at heartwoodtraining@gmail.com