/

/

Tri-County Receives Assistance for Veterans from TUFF Foundation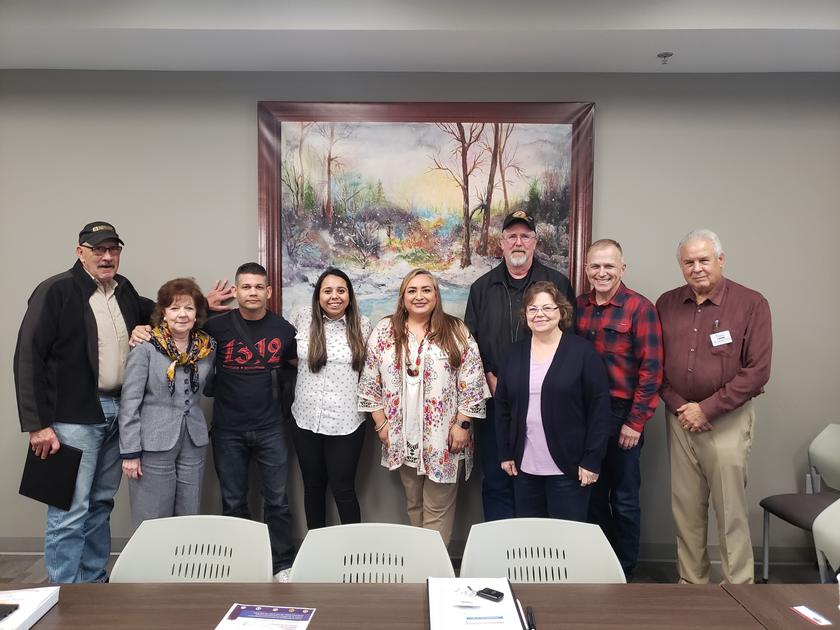 CONROE, TX - For the last 4 years, the Texans United for Freedom (TUFF), a local nonprofit, has hosted an event in November, "Cooking 4 Courage" Barbeque Cook-Off to honor our local Veterans and raise awareness of Veteran issues. The funds raised during this event are donated to local veteran service agencies to support services such as PTSD recovery, re acclimation and employment into civilian life, and other supportive services; all of which are available to local veterans, active military personnel, and first responders. Those agencies receiving $7500 each were VFW Post 4709, Lone Survivor, Boots 2 Badges and Tri County Behavioral Healthcare's Veteran Services Programs. Tri County Behavioral Healthcare Veteran's Services Program used the funds to assist with growing local health services for area vets.

Ashley Taylor, a local veteran with VFW Post 4709 and Texas Regional Director for the Lone Survivor Foundation, connected TUFF with Tri-County Behavioral Healthcare to be one of the recipients for funding from the 2019 Cooking 4 Courage Barbeque. This very generous donation allowed Tri-County's Veteran Services to bridge the gap in services through transportation efforts, mentorship programs for incarcerated veterans, offer additional assistance in Veterans Treatment Court, and to extend their peer to peer services by establishing a Women Veterans Group.

The Women Veterans Group was initiated in January 2020 as an opportunity for female veterans from all branches of service to be able to take a step back from their career, their family and their caregiver roles and focus on themselves for a brief moment.  This monthly meeting is for women living in Montgomery County, Walker County, and the North Houston area.  The group is currently meeting virtually.  Interested women may email ShirleyU@tcbhc.org for additional information.

A portion of these funds have also been allocated to assist local homeless Veterans with wraparound services that fill the transportation gap between the Texas Work Force Commission, Dress for Success, and Lone Star Legal Aid; all of which can only be obtained if the individuals have transportation.  Through a partnership with Uber, these Veterans can now access all of these great resources.

During the COVID-19 pandemic many of our local shelters have been closed, leaving Veterans without a place to stay.  Through Tri-County's Military Veteran Peer Network (MVPN) they have been able to cover the costs of motel stays while permanent housing is found. The MVPN also trains military and veteran volunteers who offer peer mental support, assistance in navigating the 211 resources, communication skills, and other supports that assist the Veteran who is learning to operate in a civilian world that is completely different from their military life. Learn more here.

"The TUFF donations helped pay for emergency housing", said Shirley Uriostegui, Regional Veteran's Service Liaison at Tri-County Behavioral Healthcare, and a Navy veteran. "We received a 211 call from a 27-year-old female with a 12-month old baby. She had nowhere to go except the woods. Through US Vets and TUFF, we were able to get her a studio apartment. She is also connecting with the Veterans Assistance Program to get a stable job and working on receiving other VA benefits."

Lack of person-to-person interaction has hit our veterans extremely hard.  There has been an increase in substance use in some Veterans as they begin to self-medicate with drugs and alcohol to avoid dealing with their traumas. This can lead to poor decisions and interactions with law enforcement. The Veterans Treatment Court, overseen by Judge Kathleen Hamilton, is a 2-year court where veterans who are involved with the criminal justice system are provided a holistic integrated set of supportive services that divert veterans into an alternative to incarceration program that addresses their specific needs. Upon completion of the program, the Veterans criminal record is expunged.

"Tri-County Behavioral Healthcare is very fortunate to partner with TUFF to provide enhanced local mental health programs to local veterans in our community", said Shirley.

Tri-County Behavioral Healthcare has a mission to enhance the quality of life for those they serve in the community for individuals with mental illness, substance abuse disorders and intellectual/developmental disabilities. Visit their website at
www.TriCountyServices.org. Veteran Services of Tri-County strives to enhance access to services for Veterans in Montgomery, Walker, and Liberty Counties through Peer Mentorship. Find them on Facebook at www.facebook.com/TriCountyVeteranServices.

Learn more about the Texans United for Freedom at www.TuffFoundation.org or email Cooking4Courage@gmail.com. Follow TUFF on Facebook at www.Facebook.com/TUFFFoundation.